ASRock Z390 Phantom Gaming 9 recenzija
Datum objave 20.11.2018 - Krešimir Matanović
Z390 Phantom Gaming 9 - prvi dio
Prev
:
Stranica 1 od 5
:
Next
ASRock je za devetu generaciju Intelovih Core procesora predstavio potpuno novu seriju matičnih ploča za gamere nazvanih Phantom Gaming. Odbacili su konačno staro Fatal1ty imenovanje, redizajnirali ploče i dodali im nove mogućnosti. Najznačajnija novotarija na Phantom Gaming 9 ploči je Relatekov LAN kontroler sposoban za brtzine so 2.5Gbps, uz dva gigabitna Intelova LAN kontrolera – da, ploča ima tri LAN porta. Uz njih, tu je i AC WiFi Wave 2 sposoban za brzine spajanja do 1.73 Gbps. Uz dobru mrežu idu i ostale dobre karakteristike koje čine jednu pravu gamersku ploču.
Phantom Gaming 9 dolazi u ekskluzivnom vertikalnom pakiranju s ručkom na vrhu i otklopnom prednjom stranicom. Na kutiji se nalaze sve bitne informacije, a ispod otklopne stranice je moguće vidjeti ploču i saznati dodatne informacije o njoj. Bundle nije ekstremno bogat, no solidan je. Sastoji se od:
Quick Installation Guide, Support CD, I/O Shield
4 x SATA Data Cables
1 x ASRock SLI_HB_Bridge_2S Card
1 x ASRock WiFi 2.4/5 GHz Antenna
3 x Screws for M.2 Sockets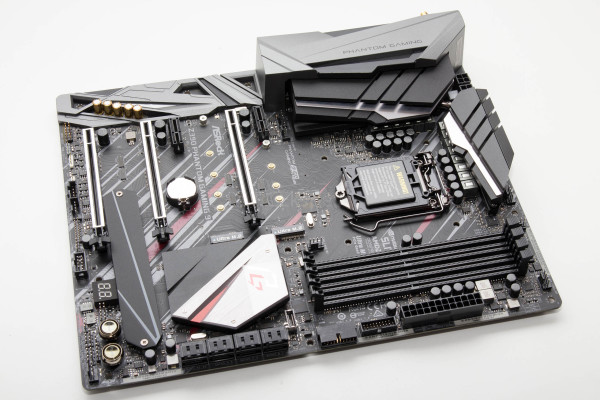 Ako vam se ova ploča činu jako poznatom, to je zato što je vrlo slična ploči Z390 Taichi koju smo nedavno testirali. Boje su drugačije, kao i hladnjak na čipsetu, no komponente i njihov razmještaj su identični. Ok, ova ploča ima taj jedan 2.5G LAN port više, te još poneki sitniji element, no sve ostalo kada je oprema u pitanju je identično. Phantom Gaming 9 je okrenuta prema hardcore gamerima koji žele bržu mrežu, te velike I/O mogućnosti. Izgled je vrlo dobar što smo zaključiti i kod Taichi, a ovdje je kombinacija boja malo drugačija. Napravljen je odmak od crvenila Fatal1ty modela, no na mat crnom PCB-u uz sive šare, nađe se i pokoja crvena, kao i na PCH hladnjaku – čisto da se ne zaboravi. Sviđa nam se što se ploče više ne šarene kao nekada, a za one koji su toga željni tu je ionako sada RGB LED osvjetljenje kojega u tri zone ima i na ovoj ploči.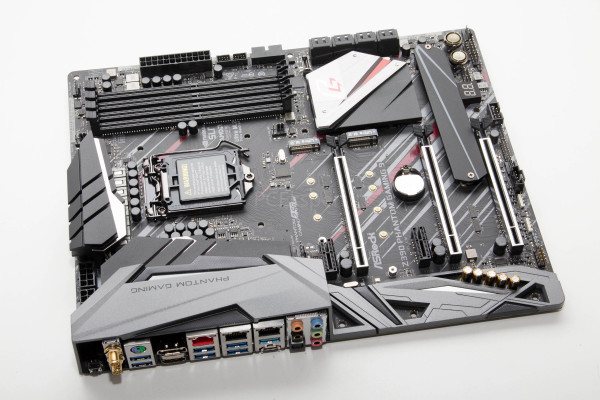 Layout je vrlo dobar. Sve je logično raspoređeno, a ovaj jedan M.2 socket tik ispod prvog PCIe x16 utora ne moramo baš koristiti – imamo još dva koji su na boljim pozicijama. Svi su konektori i headeri uz rubove, a ploča ima i dovoljno 4-pinskih konektora – osam. Hladnjaci na VRM jedinici su identično kao i na Taichi, spojeni su toplovodnom cijevi, a i zadovoljavajuće su učinkoviti. PCH hladnjak nije toliko učinkovit kao onaj na Taichi i malo se više zagrijava, no to nije kritično. I ovdje na zadnjem M.2 socketu imamo tanki aluminijski hladnjak s termalnom masom za SSD-e koji skida i 20-tak °C, što će puno značiti za produljenje životnog vijeka.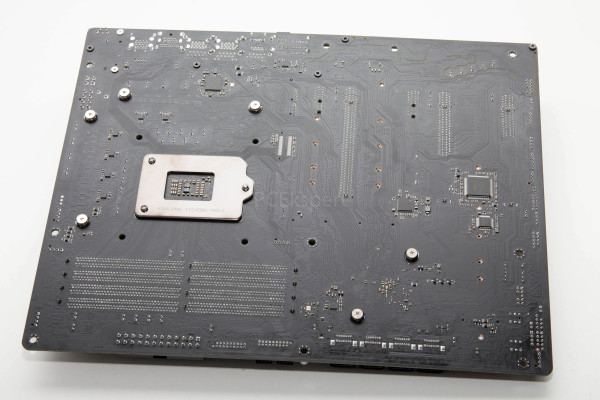 I ovdje imamo ponešto kontrolera s donje strane koji nisu stali gore – dva Nuvotonova i jedan ASMedijin su grupirani, a desno od pločice socketa je smješten Realtekov Dragon RTL8125AG 2.5 gigabitni LAN kontroler.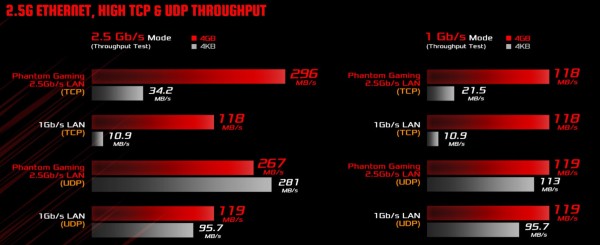 Taj kontroler i čini ovu ploču posebnijom u odnosu na Taichi jer igračima omogućava više TCP+UDP bandwitdha, niže latencije i ostale optimizacije putem Phantom Gaming LAN softvera. On omogućava automatsko podešavanje bandwidtha, praćenje statistike mrežnog prometa, optimizirane pretpodešene opcije za igranje, surfanje i streaming, te ručno podešavanje i kontrolu nad prioritetima prometa.
Specifikacije ASRock Z390 Phantom Gaming 9

Podržani
procesori
– Supports 9th and 8th Gen Intel® Core™ Processors (Socket 1151)
– IR Digital PWM
– 12 Power Phase design
– Supports Intel® Turbo Boost 2.0 Technology
– Supports Intel® K-Series unlocked CPUs
– Supports ASRock BCLK Full-range Overclocking
– Supports ASRock Hyper BCLK Engine II
Čipset
Intel Z390
Memorija
– Dual Channel DDR4 Memory Technology
– 4 x DDR4 DIMM Slots
– Supports DDR4 4266+(OC)/ 4133(OC) / 4000(OC) / 3866(OC) / 3800(OC) / 3733(OC) / 3600(OC) / 3200(OC) / 2933(OC) / 2800(OC) / 2666 / 2400 / 2133 non-ECC, un-buffered memory
– Supports ECC UDIMM memory modules (operate in non-ECC mode)
– Max. capacity of system memory: 64GB*
– Supports Intel® Extreme Memory Profile (XMP) 2.0
– 15μ Gold Contact in DIMM Slots
Utori
za proširenja
– 3 x PCI Express 3.0 x16 Slots (PCIE2/PCIE4/PCIE5: single at x16 (PCIE2); dual at x8 (PCIE2) / x8 (PCIE4); triple at x8 (PCIE2) / x4 (PCIE4) / x4 (PCIE5))*
– 2 x PCI Express 3.0 x1 Slots (Flexible PCIe)
– Supports AMD Quad CrossFireX™, 3-Way CrossFireX™ and CrossFireX™
– Supports NVIDIA® Quad SLI™ and SLI™
– Supports NVIDIA® NVLink™ with dual NVIDIA® GeForce RTX series graphics cards**
– 1 x Vertical M.2 Socket (Key E) with the bundled WiFi-802.11ac module (on the rear I/O)
– 15μ Gold Contact in VGA PCIe Slot (PCIE2)
Grafika i video

Integrated Graphics Processor- Intel® HD Graphics support
– Supports HDMI 2.0 with max. resolution 4096 x 2160 @ / 60 Hz
– Supports DisplayPort with max. resolution 4096 x 2304 @ 60 Hz
Supports Intel® InTru™ 3D, Quick Sync Video, Clear Video HD Technology, Insider
Supports up to 3 displays simultaneously
LAN, WLAN i Bluetooth

1 x 2.5 Gigabit LAN 10/100/1000/2500 Mb/s (Dragon RTL8125AG):
– Supports Phantom Gaming LAN Software
– Smart Auto Adjust Bandwidth Control
– Visual User Friendly UI
– Visual Network Usage Statistics
– Optimized Default Setting for Game, Browser, and Streaming Modes
– User Customized Priority Control
– Supports Wake-On-LAN
– Supports Lightning/ESD Protection
– Supports Energy Efficient Ethernet 802.3az
– Supports PXE
2 x Gigabit LAN 10/100/1000 Mb/s (1 x Intel® I219V, 1 x Intel® I211AT):
– Supports Wake-On-LAN
– Supports Lightning/ESD Protection
– Supports Dual LAN with Teaming*
– Supports Energy Efficient Ethernet 802.3az
– Supports PXEWLAN– Intel® 802.11ac WiFi Module
– Supports IEEE 802.11a/b/g/n/ac
– Supports Dual-Band (2.4/5 GHz)
– Supports high speed wireless connections up to 1733Mbps
– 2 antennas to support 2 (Transmit) x 2 (Receive) diversity technology
– Supports Bluetooth 5.0 + High speed class II
– Supports MU-MIMO
Audio
– 7.1 CH HD Audio with Content Protection (Realtek ALC1220 Audio Codec)
– Premium Blu-ray Audio support
– Supports Surge Protection
– Nichicon Fine Gold Series Audio Caps
– 120dB SNR DAC with Differential Amplifier
– NE5532 Premium Headset Amplifier for Front Panel Audio Connector (Supports up to 600 Ohm headsets)
– Pure Power-In
– Direct Drive Technology
– PCB Isolate Shielding
– Impedance Sensing on Rear Out port
– Individual PCB Layers for R/L Audio Channel
– RGB LED
– Gold Audio Jacks
– 15μ Gold Audio Connector
– Supports Creative Sound Blaster™ Cinema 5
Storage

– 6 x SATA3 6.0 Gb/s Connectors, support RAID (RAID 0, RAID 1, RAID 5, RAID 10, Intel® Rapid Storage Technology 16), NCQ, AHCI and Hot Plug*
– 2 x SATA3 6.0 Gb/s Connectors by ASMedia ASM1061, support NCQ, AHCI and Hot Plug*
– 1 x Ultra M.2 Socket (M2_1), support M Key type 2230/2242/2260/2280 M.2 SATA3 6.0 Gb/s module and M.2 PCI Express module up to Gen3 x4 (32 Gb/s)**
– 2 x Ultra M.2 Sockets (M2_2 and M2_3), support M Key type 2230/2242/2260/2280/22110 M.2 SATA3 6.0 Gb/s module and M.2 PCI Express module up to Gen3 x4 (32 Gb/s)**

USB

Intel® Z390 Chipset :
1 x USB 3.1 Gen 2 front panel connector port(s)
Intel® Z390 Chipset :
2 x USB 3.1 Gen 2 port(s) (2 at back panel, red, Type-A)
Intel® Z390 Chipset :
5 x USB 3.1 Gen 1 port(s) (3 at back panel, blue, Type-A + USB Type-CTM, 2 at mid-board)
Intel® Z390 Chipset :
4 x USB 2.0 port(s) (2 at back panel, black, 2 at mid-board)

BIOS
– 2 x 128Mb AMI UEFI Legal BIOS with multilingual GUI support (1 x Main BIOS and 1 x Backup BIOS)
– Supports Secure Backup UEFI Technology
– ACPI 6.0 Compliant wake up events
– SMBIOS 2.7 Support
– CPU Core/Cache, GT Core/Cache, DRAM, VTT DDR, PCH 1.05V, VCCIO, CPU PLL 2, VCCSA, VCCPLL, CPU Cold Bug Killer, CPU PLL 1, CLK VDD, DMI, CPU Internal PLL, GT PLL, Ring PLL, System Agent PLL, Memory Controller PLL Voltage Multi-adjustment
Format
– ATX Form Factor: 12.0-in x 9.6-in, 30.5 cm x 24.4 cm
Interni I/O portovi
– 1 x TPM Header
– 1 x Power LED and Speaker Header
– 2 x RGB LED Headers*
– 1 x Addressable LED Header**
– 1 x CPU Fan Connector (4-pin)***
– 1 x CPU/Water Pump Fan Connector (4-pin) (Smart Fan Speed Control)****
– 6 x Chassis/Water Pump Fan Connectors (4-pin) (Smart Fan Speed Control)*****
– 1 x 24 pin ATX Power Connector (Hi-Density Power Connector)
– 1 x 8 pin 12V Power Connector (Hi-Density Power Connector)
– 1 x 4 pin 12V Power Connector (Hi-Density Power Connector)
– 1 x Front Panel Audio Connector (15μ Gold Audio Connector)
– 1 x Thunderbolt™ AIC Connector (5-pin)
– 2 x USB 2.0 Headers (Support 3 USB 2.0 ports) (Intel® Z390) (Supports ESD Protection)
– 2 x USB 3.1 Gen1 Headers (Support 4 USB 3.1 Gen1 ports) (ASMedia ASM1074 hub) (Supports ESD Protection)
– 1 x Front Panel Type C USB 3.1 Gen2 Header (ASMedia ASM1562 Retimer)
– 1 x Performance Mode / Easy OC Header
– 1 x Dr. Debug with LED
– 1 x Power Button with LED
– 1 x Reset Button with LED
Jedinstvene značajke

ASRock USB 3.1 Gen2
– ASRock Front Panel Type C USB 3.1 Gen2 Header (10 Gb/s)
– ASRock Rear USB 3.1 Gen2 Type-A Ports (10 Gb/s)
– ASRock Rear USB 3.1 Gen2 Type-C Port (10 Gb/s)
ASRock Super Alloy
– XXL Aluminum Alloy Heatsink
– Premium 60A Power Choke
– Premium Memory Alloy Choke (Reduces 70% core loss compared to iron powder choke)
– Dual-Stack MOSFET (DSM)
– Combo Caps (Nichicon 12K Black Caps)
– Nichicon 12K Black Caps (100% Japan made high quality conductive polymer capacitors)
– I/O Armor
– Matte Black PCB
– High Density Glass Fabric PCB
Intel® 802.11ac WiFi
ASRock Steel Slots
ASRock Full Coverage M.2 Heatsink
ASRock Ultra M.2 (PCIe Gen3 x4 & SATA3)
ASRock Full Spike Protection (for all USB, Audio, LAN Ports)
ASRock Live Update & APP Shop
Novosti
  Tajvanski je Centaur (u vlasništvu VIA Technoplogiesa), dao naslutiti kako će uskoro na tržište izbaciti svoj novi x86 procesor nakon dugo vremena, te kako će isti imati AI koprocesor. Navodno je riječ o 8-jezgrenom procesoru s ring arhit... Pročitaj više
Corsair je predstavio novo desktop ambijentalno osvjetljenje u obliku iCUE LS100 Smart Lighting traka. U ponudi je Starter kit i dva kita za ekspanziju osvjetljenja, pa tako sada uz svjetleće komponente Corsair nudi i osvjetljenje ambijenta... Pročitaj više
Kompaktnih dimenzija i tanak, vanjski SSD ADATA SC685 jedan je od manjih diskova na tržištu. No, usprkos skromnoj veličini prikladnoj za prenošenje, on je velik kapacitetom i prenijet će i sigurnosno kopirati podatke za tili čas. Masa model... Pročitaj više
Nedavno je Seasonic započeo proces obnavljanja cijele svoje linije proizvoda i jačanja svog korporativnog identiteta. Transparentnost je vodeća u fazi postupnog ukidanja starijih modela, dok je OneSeasonic proces novim proizvodnim linijama... Pročitaj više
Canon je predstavio novu aplikaciju Creative Park, koja je sveobuhvatno rješenje koje nudi preuzimanje i ispis raznih predložaka na dodir gumba. Uz tu je besplatnu aplikaciju (za iOS i Android) moguće koristiti na stotine zabavnih i šarenih... Pročitaj više
Sve novosti