ASUS 970 Pro Gaming/Aura test
Datum objave 15.03.2016 - Krešimir Matanović
970 Pro Gaming/Aura - prvi dio
Prev
:
Stranica 1 od 5
:
Next
ASUS je prošli mjesec osvježio svoju ponudu matičnih ploča za AM3+ platformu, a među njima je i ova 970 Pro Gaming/Aura. Riječ je o ploči sa AMD 970 (SB950) čipsetom, koja spada u srednji tržišni segment, a donosi osvježenja kao što su USB 3.1 i M.2 tehnologije, te RGB osvjetljenje nazvano Aura. Ova ploča uz to i s pravom nosi epitet Gaming jer podržava CrossFire i SLI tehnologije, a tu su i GamingFirst softver za prioritiziranje mrežnog prometa, te SupermeFX audio rješenje. Asus naravno nije jedini koji je predstavio nove modele, pa smo tako prošli smo mjesec testirali ASRockovu 970A-G/3.1, a i ostali partneri su osvježili svoje serije. Povod tome je AMD-ovo predstavljanje FX procesora s novim Wraith hladnjakom, za sada je samo jedan no uskoro će ih biti i više.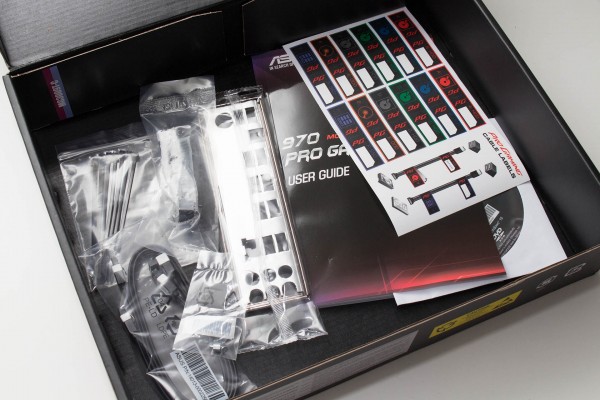 Unutar kutije se osim ploče može naći i solidan bundle koji uključuje detaljne upute za korisnike, medij s upravljačkim programima i aplikacijama, naljepnice za obilježavanje, zaštitu za stražnji I/O panel, odstojnik i vijak za M.2 uređaje, SLI mostić, SATA kabele, te plastične vezice za aranžiranje kabela.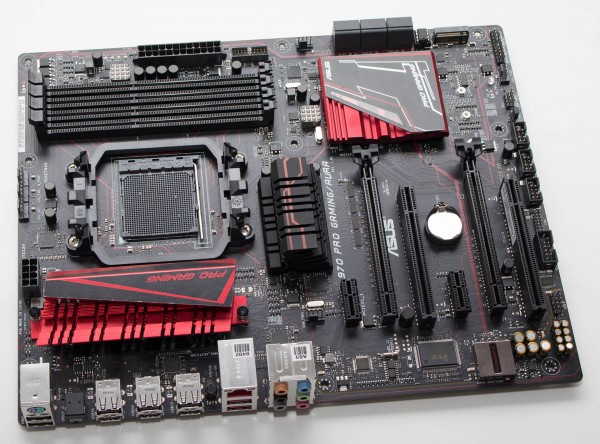 Ova ATX ploča (30.5 x 24.4 cm), je vrlo upečatljivog dizajna čemu se pridružuje i Aura RGB osvjetljenje koje korisnik može samostalno konfigurirati. Mat crni PCB ugošćuje isključivo crne utore, što je razbijeno crvenim hladnjacima na VRM-u i SB950, dok je onaj na 970 čipu crni s par crvenih ukrasa. Hladnjaci su dobro dimenzionirani i svoj posao odrađuju korektno, a tek kada se krene s overclockingom je poželjno pustiti bilo kakvu zračnu struju preko njih. Mi smo ovu ploču testirali u sklopu Define S kućišta gdje problema s rashlađivanjem nije bilo.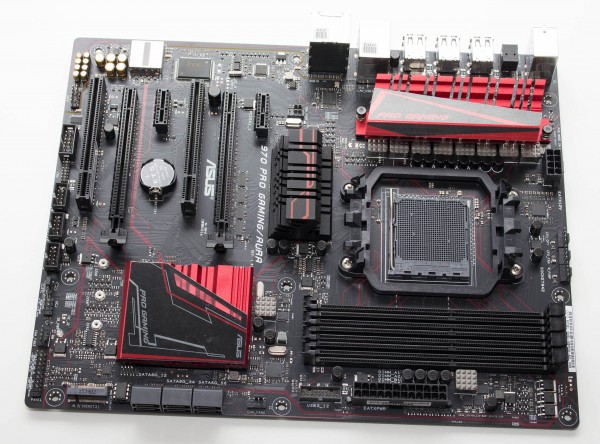 Layout ploče je vrlo logičan i sve je dobro posloženo. Konektori su na uobičajenim mjestima, kako oni za napajanje ploče, tako i oni za ventilatore, SATA, USB itd. Sve je to lijepo posloženo uz rubove ploče gdje je i pristup najlakši. Kvaliteta izrade i kvaliteta komponenata (kvalitetne prigušnice, 10K Texas Instrumentsovi Solid kondenzatori, ESD zaštita itd.), je kao i uvijek kod Asusa na visokoj razini i premda nije riječ o top modelu za 990 čipsetom, ova ploča svakako ostavlja onaj poznati premium dojam.
Specifikacije ASUS 970 Pro Gaming/Aura

Podržani
procesori
Build in AMD AM3+ FX™/Phenom™ II/Athlon™ II/Sempron™ 100 Series Processors
Supports AM3+ 32 nm CPU
Supports CPU up to 125 W
AMD Cool 'n' Quiet™ Technology
Čipset
Build in AMD 970/SB950 (4.8 GT/s HyperTransport 3)
Memorija
4 x DIMM, Max. 32GB, DDR3 2133(O.C.)/1866/1600/1333/1066 MHz Non-ECC, Un-buffered Memory
Dual Channel Memory Architecture
Utori
za proširenja
2 x PCIe 2.0 x16 (x16 or dual x8)
2 x PCIe 2.0 x1
2 x PCI
Multi-VGA
podrška
Supports NVIDIA Quad-GPU SLI Technology
Supports AMD Quad-GPU CrossFireX Technology
LAN
Intel I211-AT, 1 x Gigabit LAN Controller, GameFirst technology
Anti-surge LANGuard
Audio
SupremeFX 8-Channel High Definition Audio CODEC
– Supports : Jack-detection, Multi-streaming, Front Panel MIC Jack-retasking
– High quality 115 dB SNR stereo playback output
Audio Feature :
– SupremeFX Shielding™ Technology
– Optical S/PDIF out port(s) at back panel
– Sonic Radar II
Storage
6 x SATA 6Gb/s port(s), black,
Support Raid 0, 1, 5, 10
1 x M.2 Socket 3, , with M Key, type 2242/2260/2280 storage devices support (PCIE 2.0 x4)
USB
ASMedia USB 3.1 controller :
2 x USB 3.1 port(s) (2 at back panel, , Type-A)
ASMedia USB 3.0 controller :
2 x USB 3.0 port(s) (2 at mid-board)
AMD SB950 controller :
14 x USB 2.0 port(s) (8 at back panel, , 6 at mid-board)
BIOS
64 Mb Flash ROM, UEFI BIOS, PnP, DMI2.0, WfM2.0, SM BIOS 2.7, ACPI 2.0a, Multi-language BIOS, ASUS EZ Flash 2, F12 PrintScreen, F3 Shortcut Function and ASUS DRAM SPD (Serial Presence Detect) memory information
Format
ATX Form Factor
12 inch x 9.6 inch ( 30.5 cm x 24.4 cm )
Interni I/O portovi
1 x ReTry jumper
1 x Safe Boot jumper
1 x USB 3.0 connector(s) support(s) additional 2 USB 3.0 port(s) (19-pin)
3 x USB 2.0 connector(s) support(s) additional 6 USB 2.0 port(s)
1 x M.2 Socket 3 for M Key, type 2242/2260/2280 devices
1 x TPM header
1 x COM port(s) connector(s)
6 x SATA 6Gb/s connector(s)
1 x CPU Fan connector(s) (1 x 4 -pin)
1 x CPU OPT Fan connector(s) (1 x 4 -pin)
3 x Chassis Fan connector(s) (3 x 4 -pin)
1 x 24-pin EATX Power connector(s)
1 x 8-pin ATX 12V Power connector(s)
1 x Front panel audio connector(s) (AAFP)
1 x System panel(s)
1 x Clear CMOS jumper(s)
1 x Water Pump header (4-pin)
1 x Slow Mode jumper(s)
Specijalne značajke

Gamer's Guardian:
– ESD Guards on LAN, Audio, KBMS and USB3.0/2.0 ports
– DRAM Overcurrent Protection
– Stainless Steel Back I/O
– DIGI+ VRM
ASUS Exclusive Features :
– AI Suite 3
– Ai Charger+
– USB 3.1 Boost
– Disk Unlocker
ASUS Quiet Thermal Solution :
– ASUS Fan Xpert 2
ASUS EZ DIY :
– ASUS O.C. Tuner
– ASUS CrashFree BIOS 3
– ASUS EZ Flash 2
– ASUS UEFI BIOS EZ Mode
– Push Notice
ASUS Q-Design :
– ASUS Q-Shield
– ASUS Q-LED (CPU, DRAM, VGA, Boot Device LED)
– ASUS Q-Slot
– ASUS Q-DIMM
Media Streamer
RAMCache
AURA: RGB Lighting Control
Novosti
U suradnji s portalom posao. hr donosimo vam tjedni pregled najboljih radnih mjesta u kategoriji Informatika i telekomunikacije. U nastavku pogledajte aktualne poslove koje su za vas odabrali stručnjaci sa specijaliziranog portala za tražen... Pročitaj više
Cooler Master je predstavio novi ambidekstralni igraći miš naziva CM310. Krasi ga RGB LED osvjetljenje, ima optički senzor rezolucije 1000 DPI-a i masu od 100 grama. Pet je predpodešenih profila za RGB osvjetljenje, a i rezolucija senzora s... Pročitaj više
Dell je predstavio najmoćniji do sad 1U server uz još nekoliko noviteta iz segmenta radnih stanica dizajniranih tako da pruže tvrtkama svih veličina i budgeta snažne, cjenovno prihvatljive, kompaktne radne stanice koje predvode u industriji... Pročitaj više
Hrvatski Telekom je danas u Puli obilježio završetak modernizacije radijske pristupne mreže na području Istre čime su se stvorili preduvjeti za implementaciju 5G mreže na tom području. Istra je tako postala prva regija u zemlji na čijem je... Pročitaj više
Kontekst i značenje uništavaju se autorskim pravima i zakonima o privatnosti koji su stvoreni za vrijeme koje je prošlo. Pridružite se Exodusu i ljudima koji će preuzeti kontrolu nad vrijednošću koja postoji u osobnom identitetu i podacima.... Pročitaj više
Sve novosti