ASRock A88M-G/3.1 test
Datum objave 05.04.2016 - Krešimir Matanović
A88M-G/3.1 - prvi dio
Prev
:
Stranica 1 od 5
:
Next
Nakon testa novog APU-a A10-7860K i malene MSI-eve A68HI Mini ITX ploče, na red dolazi jedna Micro ATX ploča koja je također namijenjena FM2+ APU-ima. Ova je za razliku od MSI-eve bazirana na najjačem A88 čipsetu, te donosi bogatiju opremu. ASRock se potrudio te implementirao USB 3.1 kontroler i to s oba dostupna konektora – Type A i C. Uz to ploča ima i M.2 Socket 3, po jedan PCIe 3.0 x16 te PCIe 2.0 x16 slot te kvalitetnu audio jedinicu. Ploča dolazi u klasičnoj kartonskoj kutiji na kojoj se nalaze i detalji o proizvodu.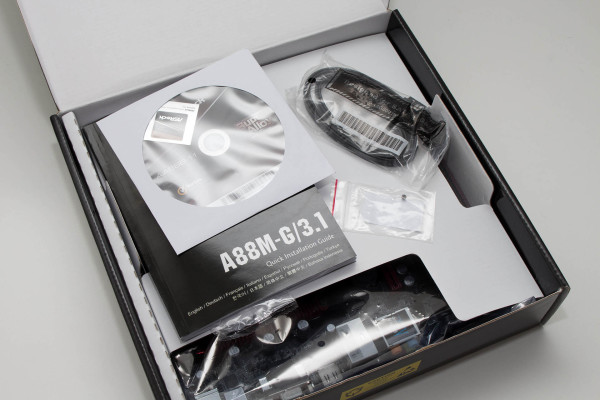 Unutar kutije je ploča smještena u zaseban karton koji ju štiti i s donje i s gornje strane, te je u antistatičkoj vrećici. Bundle nije naročito bogat i sastoji se tek od uputa za instalaciju i korištenje, medija s upravljačkim programima i aplikacijama, jednog vijka za M.2 uređaje, dva SATA kabela i zaštite za stražnji I/O panel.
 Ploča Micro ATX dimenzija (24.4 x 24.4 cm), dobro izgleda, kombinira crni PCB sa crnim i crvenim elementima i ukupan dojam je jako dobar. Layout je također solidan s glavnim konektorima pomaknutim na rub ploče za lakši pristup. Hlađenje je malo spartanski izvedeno s malenim i tankim hladnjakom na A88 čipsetu te ne puno većim na VRM dijelu. Prilikom normalne se upotrebe hladnjaci zagriju no ne i pregriju, dok je kod overclockinga ipak potrebno prisilno hlađenje, odnosno usmjeravanje zračne struje preko ključnih elemenata na ploči.
Specifikacije ASRock A88X-G/3.1

Podržani
procesori
– Supports Socket FM2+ 95W / FM2 100W processors
– 4 + 2 Power Phase design
Čipset
– AMD A88X (Bolton-D4)
Memorija
– Dual Channel DDR3 Memory Technology
– 4 x DDR3 DIMM Slots
– Supports DDR3 2400+(OC)/2133/1866/1600/1333/1066 non-ECC, un-buffered memory
– Max. capacity of system memory: 64GB

*


– Supports Intel Extreme Memory Profile (XMP) 1.3 / 1.2
– Supports AMD Memory Profile Technology (AMP) up to AMP 2400
Utori
za proširenja
– 1 x PCI Express 3.0 x16 Slot (PCIE1 @ x16 mode)
– 1 x PCI Express 2.0 x16 Slot (PCIE3 @ x4 mode)
– 1 x PCI Express 2.0 x1 Slot
– 1 x PCI Slot
Grafika i Multi-VGA
podrška
– Integrated AMD Radeon R7/R5 Series Graphics in A-series APU
– DirectX 11.1, Pixel Shader 5.0 with FM2+ CPU. DirectX 11, Pixel Shader 5.0 with FM2 CPU.
– Max. shared memory 2GB
– Three graphics output options: D-Sub, DVI-D and HDMI
– Supports Triple Monitor- Supports AMD Quad CrossFireX, CrossFireX and Dual Graphics
LAN
– PCIE x1 Gigabit LAN 10/100/1000 Mb/s
– Realtek RTL8111GR
– Supports Wake-On-WAN
– Supports Wake-On-LAN
– Supports Lightning/ESD Protection (ASRock Full Spike Protection)
– Supports LAN Cable Detection
– Supports Energy Efficient Ethernet 802.3az
– Supports PXE
Audio
– 7.1 CH HD Audio with Content Protection (Realtek ALC1150 Audio Codec)
– Premium Blu-ray Audio support
– Supports Surge Protection (ASRock Full Spike Protection)
– ELNA Audio Caps
Storage
– 8 x SATA3 6.0 Gb/s Connectors, support RAID (RAID 0, RAID 1, RAID 5 and RAID 10), NCQ, AHCI and Hot Plug
– 1 x M.2_SSD (NGFF) Socket 3, supports type 2230/2242/2260/2280 M.2 PCI Express module up to Gen2 x4 (20 Gb/s)
USB
– 2x USB 3.1 10GBps (Type A i C), 4x USB 3.0, 6x USB 2.0
BIOS
– 64Mb AMI UEFI Legal BIOS with GUI support
– Supports "Plug and Play"
– ACPI 1.1 Compliant wake up events
– Supports jumperfree
– SMBIOS 2.3.1 support
– DRAM, CPU Voltage multi-adjustment
Format
– Micro ATX Form Factor (24.4 x 24.4 cm)
– Solid Capacitor design
Interni I/O portovi
– 1 x COM Port Header
– 1 x TPM Header
– 2 x CPU Fan Connectors (1 x 4-pin, 1 x 3-pin)
– 2 x Chassis Fan Connectors (2 x 4-pin)
– 1 x 24 pin ATX Power Connector
– 1 x 8 pin 12V Power Connector
– 1 x Front Panel Audio Connector
– 2 x USB 2.0 Headers (Support 4 USB 2.0 ports) (Supports ESD Protection (ASRock Full Spike Protection))
– 1 x USB 3.0 Header (Supports 2 USB 3.0 ports) (Supports ESD Protection (ASRock Full Spike Protection))
Specijalne značajke
ASRock USB 3.1
– ASRock USB 3.1 Type-A Port (10 Gb/s)
– ASRock USB 3.1 Type-C Port (10 Gb/s)
ASRock Super Alloy
– Sapphire Black PCB
– High Density Glass Fabric PCB
ASRock Full Spike Protection
ASRock Live Update & APP Shop
Novosti
Samsung je najavio drugi senzor od 200 milijuna piksela ISOCELL HP3, s najmanjom površinom piksela u industriji i tehnologijom spajanja 16-u-1 piksela. Samsung ISOCELL HP3 senzor od 200 MP je veličine 1/14 inča s površinom piksela 0,56 μm š... Pročitaj više
Montblanc Summit 3 je prvi pametni sat u 13 mjeseci osim Samsung Galaxy Watch 4 i Galaxy Watch 4 Classic modela, koji je stigao na tržište s Wear OS 3 verzijom Googleovog operativnog sustava za satove. Montblanc Summit 3 očito preferira luk... Pročitaj više
Prema Android Policeu, Google razvija novi UI alat koji podržava "povuci i ispusti datoteke" za funkciju "preuzimanja" ugrađenu u preglednik Chrome. Omogućuje klik na novododani gumb alata "Preuzmi" na desnoj strani okvira za unos URL-a u p... Pročitaj više
Proizvođači čipova za mobilne telefone imaju tendenciju lansirati nadograđene vodeće platforme u drugoj polovici godine. Nakon što je Qualcomm lansirao Snapdragon 8+ Gen 1, MediaTek je također najavio Dimensity 9000+ . Super jezgra Cortex-X... Pročitaj više
Iako trenutna verzija PCIe 4.0 već može zadovoljiti propusnost najjačih grafičkih kartica i brze SSD-ove i PCIe 5.0 (uveden 2019. godine) još uvijek treba proći put do više računala, postoji hitna potreba formulacije standarda specifikacija... Pročitaj više
Sve novosti