ASUS ROG Strix Z390-I Gaming recenzija
Datum objave 10.10.2018 - ASUS ROG Strix Z390-I Gaming recenzija
ROG Strix Z390-I Gaming - prvi dio
Prev
:
Stranica 1 od 5
:
Next
Asus nam je na test poslao ROG Strix Z390-I Gaming namijenjenu novim Intel Core procesorima devete generacije, te jasno i drugim starijim LGA1151 procesorima. S obzirom na to da će deveta generacija biti predstavljena tek za desetak dana, ovu smo ploču isprobali sa starijim 8700K procesorom. Z390-I Gaming je Mini-ITX ploča koja baš kao i svaka prava ROG ploča dolazi s vrlo bogatom opremom i mogućnostima. Na malenu je površinu smješteno puno toga, a ploča je napravljena vrlo kvalitetno.
Kutija je malena i debeljuškasta, te dobro stiti ploču od vanjskih mehaničkih utjecaja. Ploča se nalazi u antistatičkoj vrećici, te u još jednom kartonskom odjeljku. Ispod nje je zadovoljavajuće bogati bundle koji se sastoji od:
User's manual
M.2 2242 mounting kit
4 x SATA 6Gb/s cables
2 x M.2 Screw Package
1 x Supporting DVD
1 x ASUS 2T2R dual band Wi-Fi moving antennas (Wi-Fi 802.11a/b/g/n/ac compliant)
1 x CABLE TIE BLACK
1 x ROG Strix stickers
1 x 10-in-1 ROG cable label
1 x Extension cable for Addressable LED
1 x Panel cable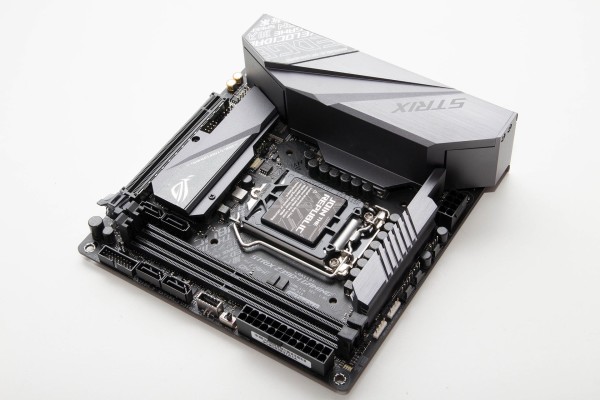 Asus je za osmu generaciju Core procesora imao velo sličnu ploču koja se zvala ROG Strix Z270-I Gaming i bit će zanimljivo vidjeti što je na ovoj drugačije, osim jasno samog čipseta i podrške za nove procesore. Z390 je zapravo samo osvježeni Z370 čipset s dodanom nativnom podrškom za ukupno šest 10-gigabitnih USB 3.1 (Gen. 2) portova. Uz to, ima i integriranu WiFi 802.11ac mrežu. Sve ostalo je apsolutno identično pa i 6 W TDP, te stoga nećemo puno rastezati oko čipseta. S obzirom na to da gotovo sve Z370 ploče podržavaju USB 3.1 Gen. 2, nadogradnja s njih na Z390 i nije opravdana, već je novi čipset za one koji imaju Z270 ili starije ploče, a žele nove Cofee Lake, tj. procesore devete Core generacije. Malena pločica je poprilično ispunjena, a dodatno ju zatvaraju i masivni hladnjaci. Jedan je na gornjem dijelu VRM-a, drugi je iznimno masivni na lijevoj strani VRM-a koji služi i kao zaštita, tj. pokrov za stražnje I/O portove, a pri dnu su još dva koji su spojeni – jedan za čipset, i drugi za M.2 SSD.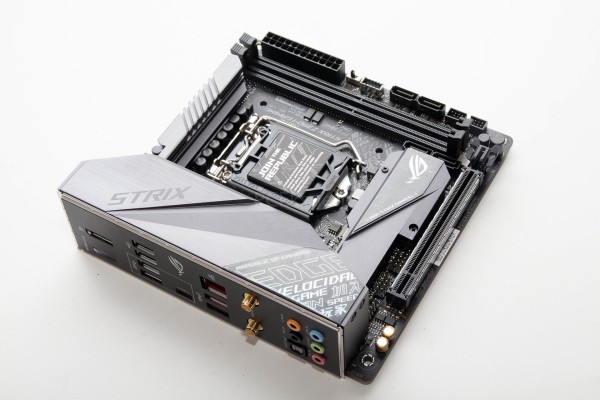 Dizajn ploče je vrlo dobar i s tim masivnim aluminijskim hladnjacima izgleda vrlo robusno. Kombinacija boja je tipična za ROG ploče novije generacije, a ukrasi uključuju hologramsku naljepnicu na donjem dijelu masivnog VRM hladnjaka, te različite natpise na ploči, kao i prošarani PCB. Layout je generalno dobar, s obzirom na to da je riječ o minijaturnoj ploči koja mjeri samo 17 x 17 centimetara. Kompromisi su napravljeni, no s obzirom na bogatstvo opreme ne možemo to previše zamjeriti. Većina je bitnih konektora uz rub ploče, s tim da je primjerice PCIe x16 slot pomaknut na samo dno, kako bi se iznad njega ostavilo prostora za headere, koji bi u suprotnom bili pokriveni. Ono što ne volimo vidjeti jesu vertikalni SATA konektori i to s jeden i s druge strane DIMM utora, no na malenom prostoru drugačije vjerojatno nije išlo.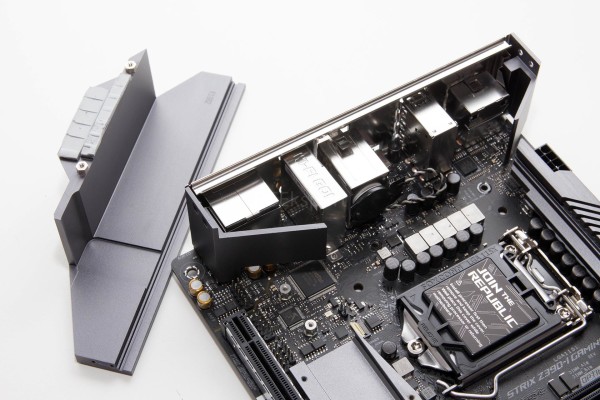 Skidanjem VRM hladnjaka nam se otvara pogled na veći dio inače skrivenog PCB-a i na jedan dio napojne jedinice. Asus je napojnu jedinicu napravio od mreže integriranih Dr.MOS faza koje u jednom pakiranju kombiniraju low i high side MOSFET-e te drivere. VRM je jasno digitalni Digi+, a korišteni su i kvalitetni kondenzatori te prigušnice. Dr.MOS pakiranje se hladi uz pomoć aluminijskog hladnjaka velike disipacijske površine, kojem se još pridružuju dva hladnjaka koji zatvaraju čitavu konstrukciju s bokova. Gornji dio VRM-a je hlađen uz pomoć klasičnog, nižeg aluminijskog hladnjaka. Napojna jedinica je vrlo dobro projektirana, a takva i mora biti jer će novi Coffee Lake procesori imati do 8 fizičkih jezgri, te će naravno podržavati i overclocking. Stoga ćemo na svim Z390 pločama vidjeti i masivnije hlađenje.
Specifikacije ASUS Strix Z390-I Gaming

Podržani
procesori
Intel® Socket 1151 9th / 8th Gen Intel® Core™, Pentium® Gold and Celeron® Processors
Supports Intel® 14 nm CPU
Supports Intel® Turbo Boost Technology 2.0
* The Intel® Turbo Boost Technology 2.0 support depends on the CPU types.
Čipset
Intel Z390
Memorija
Socket 1151 for 9th / 8th Gen Intel® Core™, Pentium® Gold and Celeron® processors
2 x DIMM, Max. 64GB, DDR4 4500(O.C)/2666/2400/2133 MHz Non-ECC, Un-buffered Memory
Dual Channel Memory Architecture
Supports Intel® Extreme Memory Profile (XMP)
Utori
za proširenja
1 x PCIe 3.0 x16 (x16 mode)
Grafika i video

Integrated Graphics Processor- Intel® HD Graphics support
– Supports HDMI 2.0 with max. resolution 4096 x 2160 @ / 60 Hz
– Supports DisplayPort with max. resolution 4096 x 2304 @ 60 Hz
Supports Intel® InTru™ 3D, Quick Sync Video, Clear Video HD Technology, Insider
Supports up to 3 displays simultaneously
LAN, WLAN i Bluetooth

Intel® I219V
Anti-surge LANGuard
ROG GameFirst TechnologyIntel® Wireless-AC 9560
Wi-Fi 802.11 a/b/g/n/ac
Supports dual band frequency 2.4/5 GHz
Supports MU-MIMOBluetooth® 5.0
Audio
ROG SupremeFX 8-Channel High Definition Audio CODEC S1220A
– Dual Headphone Amplifiers
– Impedance sense for front and rear headphone outputs
– Supports : Jack-detection, Multi-streaming, Front Panel Jack-retasking
– High quality 120 dB SNR stereo playback output and 113 dB SNR recording input
– SupremeFX Shielding Technology
– Supports up to 32-Bit/192kHz playback *4
Audio Feature :
– SupremeFX Shielding™ Technology
– Optical S/PDIF out port(s) at back panel
– Dedicated audio PCB layers: Separate layers for left and right channels to guard the quality of the sensitive audio signals
– Premium Japanese-made audio capacitors: Provide warm, natural and immersive sound with exceptional clarity and fidelity
– Sonic Radar III
– Sonic Studio III + Sonic Studio Link
Storage

Intel® Z390 Chipset :
2 x M.2 Socket 3, with M key, type 2242/2260/2280 storage devices support (both SATA & PCIE mode)*2
4 x SATA 6Gb/s port(s)
Support Raid 0, 1, 5, 10
Intel® Optane™ Memory Ready

USB

Intel® Z390 Chipset :
1 x USB 3.1 Gen 2 front panel connector port(s)
Intel® Z390 Chipset :
2 x USB 3.1 Gen 2 port(s) (2 at back panel, red, Type-A)
Intel® Z390 Chipset :
5 x USB 3.1 Gen 1 port(s) (3 at back panel, blue, Type-A + USB Type-CTM, 2 at mid-board)
Intel® Z390 Chipset :
4 x USB 2.0 port(s) (2 at back panel, black, 2 at mid-board)

BIOS
128 Mb Flash ROM, UEFI AMI BIOS, PnP, WfM2.0, SM BIOS 3.0, ACPI 6.0, Multi-language BIOS, ASUS EZ Flash 3, CrashFree BIOS 3, F11 EZ Tuning Wizard, F6 Qfan Control, F3 My Favorites, Last Modified log, F12 PrintScreen, and ASUS DRAM SPD (Serial Presence Detect) memory information.
Format
Mini ITX Form Factor
6.7 inch x 6.7 inch ( 17 cm x 17 cm )
Interni I/O portovi
1 x Aura Addressable Strip Header(s)
1 x AAFP connector
1 x Aura RGB Strip Header(s)
1 x USB 3.1 Gen 1(up to 5Gbps) connector(s) support(s) additional 2 USB 3.1 Gen 1 port(s)
1 x USB 2.0 connector(s) support(s) additional 2 USB 2.0 port(s)
2 x M.2 Socket 3 with M Key design, type 2242/2260/2280 storage devices support (Supports both SATA & PCIE SSD)
4 x SATA 6Gb/s connector(s)
1 x CPU Fan connector(s)
1 x Chassis Fan connector(s)
1 x AIO_PUMP connector
1 x 24-pin EATX Power connector(s)
1 x 8-pin ATX 12V Power connector(s)
1 x Internal speaker connector(s)
1 x System panel(s) (Chassis intrusion header is inbuilt)
1 x MemOK! II switch(es)
1 x Thermal sensor connector(s)
1 x Clear CMOS jumper(s)
1 x USB 3.1 Gen 2 front panel connector
Jedinstvene značajke
ROG Exclusive Software
– RAMCache III
– CPU-Z
– GameFirst V

OC Design – ASUS PRO Clock Technology
– Full BCLK range for extreme overclocking performance
5-Way Optimization by Dual Intelligent Processors 5
– Whole system optimization with a single click! 5-Way Optimization tuning key perfectly consolidates TPU, EPU, DIGI+ Power Control, Fan Xpert 4, and Turbo App together, providing better CPU performance, efficient power saving, precise digital power control, whole system cooling and even tailor your own app usages.
TPU
– Auto Tuning, TurboV, GPU Boost
Gamer's Guardian:
– DRAM Overcurrent Protection
– Highly Durable Components
– DIGI+ VRM
– SafeSlot
– ESD Guards on LAN, Audio,and USB ports
ASUS Optimem II:
– Optimem (Improved DDR4 stability)
– Improved DDR4 Stability
AURA :
– Aura Lighting Control
– Aura RGB Strip Headers
– Aura Lighting Effects Synchronization with compatible ASUS ROG devices
– Aura Addressable Strip Header(s)
ASUS Exclusive Features :
– AI Suite 3
– Ai Charger
ASUS EZ DIY :
– ASUS CrashFree BIOS 3
– ASUS EZ Flash 3
ASUS Q-Design :
– ASUS Q-LED (CPU, DRAM, VGA, Boot Device LED)
– ASUS Q-Slot
– ASUS Q-DIMM
Gaming Aesthetics :
– AURA-RGB Lighting
Digi+VRM
Turbo APPM.2 Onboard(The latest transfer technologies with up to 32Gb/s data transfer speeds)
Novosti
Solidigm, predstavlja P41 Plus solid-state disk sa Synergy optimiziranim softverom koji može  uz ostalo poboljšati performanse, kroz samoučenje i analizu korisničkih navika. Solidigm je nova neovisna tvrtka nastala akvizicijom Intelovog NAN... Pročitaj više
Microsoft je objavio novu aplikaciju Outlook Lite za Android telefone s malom količinom memorije i područja s nepouzdanom mrežnom vezom, uključujući 2G i 3G globalne mreže. Aplikacija Outlook Lite je veličine 5 MB , što je znatno manje u us... Pročitaj više
Intel je sredinom lipnja objavio svoju prvu diskretnu grafičku karticu Arc A380 za stolna računala, ali uglavnom je bila ograničena na tržište računala u Kini (GUNNIR i ASRock). Sada je konačno spremna za globalno tržište. ASUS i MSI su međ... Pročitaj više
Zamjena baterija na mobilnim uređajima nije jeftina. Kako bi se što više odgodio odlazak do servisa mnogi primjenjuju poznate preporuke o punjenju baterija. Neke su legitimne, druge samo mit. U ovom članku razotkriti ćemo nekoliko najčešćih... Pročitaj više
SK Hynix , Facebook, Apple, Sapphire, Google Stadia..... SK Hynix razvija DDR5 DRAM CXL memoriju koja podržava PCIe 5.0 x8 kanala Južnokorejski SK Hynix najavio je uzorke CXL 2.0 memorije temeljene na DDR5 RAM-u i PCIe (Peripheral Component... Pročitaj više
Sve novosti