Asus Maximus VII Formula WD & Gigabyte Z97X-Gaming GT test
Datum objave 29.10.2014 - Krešimir Matanović
Maximus VII Formula Watch Dogs Editon - prvi dio
Prev
:
Stranica 1 od 7
:
Next
Do sada smo na PCEkspertu testirali dvije ploče iz Asusove nove Z97 serije ROG ploča – Ranger i Hero. Obje su pozicionirane nešto niže u cjenovnom rangu, no obje donose mnoštvo zanimljivih tehnoloških rješenja i zapravo nude manje više sve potrebno naprednijim korisnicima. Za sve one kojima to nije dovoljno, a u takve se općenito ubrajaju gameri, overclockeri i svi ostali računalni entuzijasti dubljih džepova, Asus je kao i uvijek pripremio Formula model koji je trenutno najjači model, barem dok ne dođe Extreme verzija. Nama je na test pristigla najnovija Watch_Dogs verzija s kopijom (preciznije keyom) navedene igre. Prvi je ovo put da testiramo jednu ploču uz koju dolazi neka igra, pa svakako pozdravljamo ovu Asusovu inicijativu koja će sigurno privući ponekog kupca. Prednjom stranom kutije dominira centralni lik igre, a stražnja strana je klasična za ROG ploče na kojoj se nalazi nekoliko slika te detaljne specifikacije. Na prednjoj otklopivoj stranici ne nalaze detaljniji opisi tehnologija koje ova ploča ima, ali i plastični prozor i pogled prema oklopljenoj Formuli.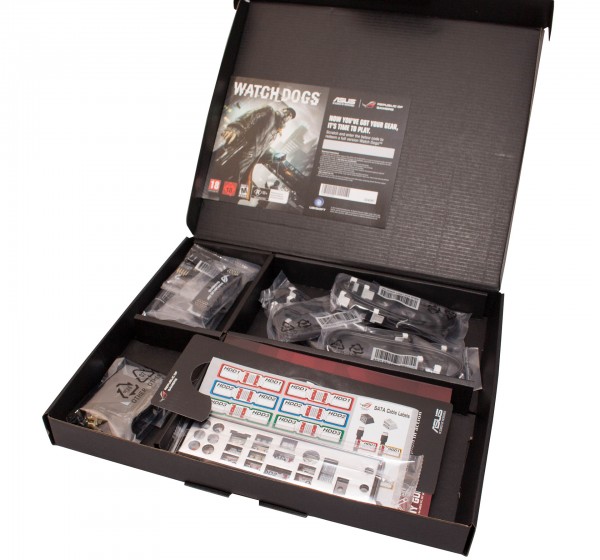 Kao što to kod ROG ploča obično biva bundle je vrlo bogat. Sastoji se od debelih i detaljnih korisničkih uputa, zaštite za stražnji I/O, osam SATA 6Gb/s kabela, jedne ASUS 2T2R dual band Wi-Fi pokretne antene (Wi-Fi 802.11a/b/g/n/ac compliant), jednog SLI mostića, jednog Q-konektora (2 u 1), jedne 12 u 1 ROG naljepnice za označavanje kabela, jedne mPCIe Combo III kartice sa dual-band WiFi 802.11 a/b/g/n/ac + Bluetooth v4.0 modulom i jednog ROG Door Hanger-a. Na popratnom se mediju nalaze upravljački programi, zatim aplikacije kao što su ROG GameFirst III, ROG RAMDisk, ROG CPU-Z, ROG Mem TweakIt, Kaspersky Anti-Virus, DAEMON Tools Pro Standard, ASUS WebStorage, HomeCloud i ASUS Utilities. Kao šlag na tortu, tu je i spomenuti key za Watch_Dogs igru.
Maximus VII Formula je ploča klasičnog ATX formata (30.5 x 24.4 cm), a po uzoru na Maximus VI Extreme model je kompletno oklopljena gornjom plastičnom i donjom metalnom pločom. Taj je tzv. ROG Armor preuzet sa TUF serije ploča, a zadatak mu je čuvati komponente ploče od velike topline koju generira grafička ili grafičke kartice koje se na njoj nalaze. Za očekivati je kako će ju kupci koristiti za ekstreman gaming u kojem će koristiti dvije ili čak tri grafičke kartice koje će očekivano biti overclockirane baš kao i ostatak sistema. Zbog toga je i hlađenje VRM dijela (CrossChill Copper), izvedeno tako da može imati dvostruku ulogu – pasivnu ili aktivnu u sklopu sistema vodenog hlađenja. Uklapanje u sistem vodenog hlađenja je jednostavno uz pomoć dvije rupe koje se nalaze na vodenom bloku VRM hladnjaka. Hlađenje svoj posao odrađuje vrlo dobro, no pri jačem overclockingu dobro je postaviti strujanje zraka preko ploče.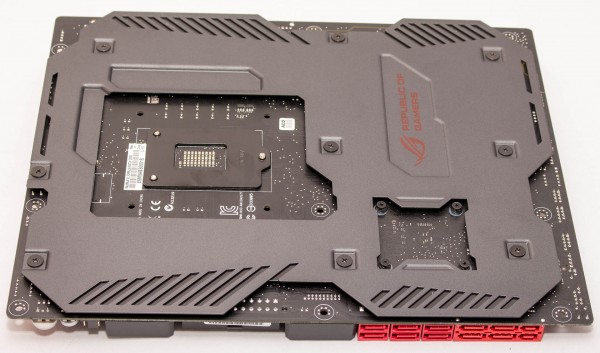 Boje su klasične za ROG seriju, crno-crvene, a layout ploče je vrlo pažljivo uređen kako ništa ničemu ne bi smetalo. Kvaliteta komponenata i izrade je na najvišoj razini, što se vidi na svakom koraku ploče – baš kako jedna ROG ploča mora i biti. Napojna jedinica je osam fazna s digitalnom kontrolom, pri čemu su dodatno naponi vrlo izdašni pa je i ekstreman overclocking sasvim moguć.
Specifikacije
Asus Maximus VII Formula

Podržani
procesori
Intel® Socket 1150 for the 5th/New 4th/4th Generation Core™ i7/Core™ i5/Core™ i3/Pentium®/Celeron® Processors
Supports Intel 22 nm CPU
Supports Intel Turbo Boost Technology 2.0
Čipset
Intel Z97
Memorija
4 x DIMM, Max. 32GB, DDR3 3300(O.C.)/3200(O.C.)/3100(O.C.)/3000(O.C.)/2933(O.C.)/2800(O.C.)/2666(O.C.)/2400(O.C.)/2133(O.C.)/2000(O.C.)/1866(O.C.)/1600/1333 MHz Non-ECC, Un-buffered Memory
Dual Channel Memory Architecture
Supports Intel® Extreme Memory Profile (XMP)
Utori
za proširenja
2 x PCIe 3.0/2.0 x16 (x16 or dual x8)
1 x PCIe 2.0 x16 (x4 mode)
3 x PCIe 2.0 x1
1 x mini-PCIe 2.0 x1
Multi-VGA
podrška
Supports NVIDIA Quad-GPU SLI Technology
Supports AMD 3-way GPU CrossFireX Technology
LAN
Intel I218V, 1 x Gigabit LAN Controller(s), featuring GAMEFIRST III
Intel LAN- Dual interconnect between the Integrated LAN controller and Physical Layer (PHY)
Anti-surge LANGuard
WLAN i BT
Wi-Fi 802.11a/b/g/n/ac
Supports dual band frequency 2.4/5 GHzBluetooth V4.0
Audio
ROG SupremeFX Formula 2014 8-Channel High Definition Audio CODEC
– Supports : Jack-detection, Multi-streaming
– SupremeFX Shielding Technology
– Cirrus Logic CS4398 DAC: 120 dB SNR, -107 dB THD+N (Max. 192 kHz/ 24 -bit)
– WIMA film capacitors
– ELNA premium audio capacitors
– TI LM4562 high-fidelity audio OP AMP(s)
Audio Feature :
– Blu-ray audio layer Content Protection
– DTS Connect
– Optical S/PDIF out port(s) at back panel
– Sonic SoundStage
– Sonic SenseAmp
– Sonic Studio
– Sonic Radar II
Storage
Intel Z97 chipset :
1 x SATA Express port, compatible with 2 x SATA 6.0 Gb/s ports
1 x M.2 Socket 3, , with M Key, type 2260 storage devices support (both SATA & PCIE mode)
4 x SATA 6Gb/s port(s), red
Support Raid 0, 1, 5, 10
Supports Intel Smart Response Technology, Intel® Rapid Start Technology, Intel Smart Connect Technology
ASMedia SATA Express controller :
1 x SATA Express port, compatible with 2 x SATA 6.0 Gb/s ports
ASMedia ASM1061 controller :
2 x SATA 6Gb/s port(s), red
USB
Intel Z97 chipset :
6 x USB 3.0 port(s) (4 at back panel, blue, 2 at mid-board)
Intel Z97 chipset :
6 x USB 2.0 port(s) (2 at back panel, black, 4 at mid-board)
ASMedia USB 3.0 controller :
2 x USB 3.0 port(s) (2 at back panel, blue)
BIOS
64 Mb Flash ROM, UEFI AMI BIOS, PnP, DMI2.7, WfM2.0, SM BIOS 2.8, ACPI 5.0, Multi-language BIOS
Format
ATX Form Factor ( 30.5 cm x 24.4 cm )
Interni I/O portovi
1 x USB 3.0 connector(s) support(s) additional 2 USB 3.0 port(s)
2 x USB 2.0 connector(s) support(s) additional 4 USB 2.0 port(s)
2 x SATA Express connector: red,
1 x TPM header
6 x SATA 6Gb/s connector(s)
1 x CPU Fan connector(s) (1 x 4 -pin)
1 x CPU OPT Fan connector(s) (1 x 4 -pin)
6 x Chassis Fan connector(s) (6 x 4 -pin)
1 x Thunderbolt header(s)
1 x 24-pin EATX Power connector(s)
1 x 8-pin ATX 12V Power connector(s)
1 x 4-pin ATX 12V Power connector(s)
1 x Front panel audio connector(s) (AAFP)
1 x System panel(s) (Q-Connector)
1 x MemOK! button(s)
10 x ProbeIt Measurement Points
1 x Thermal sensor connector(s)
1 x Power-on button(s)
1 x Reset button(s)
1 x mPCIe Combo III connector(s)
1 x ROG extension (ROG_EXT) header(s)
1 x KeyBot Button
1 x Sonic SoundStage Button
ROG Specijalne značajke


CrossChill Copper (Hybrid air and liquid cooling)
ROG Armor (including top cover and SECC steel backplate)
mPCIe Combo III (mPCIe/M.2 combo card)
ROG Connect :
– RC Diagram
– RC Remote
– RC Poster
Extreme Engine Digi+ III :
– 8 + 2 phase power design
– NexFET™ Power Block MOSFET
– 60A BlackWing Chokes
– 10K Black Metallic Capacitors
ProbeIt
KeyBot
– CPU Level Up
– XMP
– Direct Key
UEFI BIOS features :
– GPU.DIMM Post
– Tweakers' Paradise
– ROG SSD Secure Erase
– Graphic Card Information Preview
ROG RAMDisk
GameFirst III
Extreme Tweaker

Specijalne značajke

5-Way Optimization by Dual Intelligent Processors 5
– Whole system optimization with a single click! 5-Way Optimization tuning key perfectly consolidates TPU, EPU, DIGI+ Power Control, Fan Xpert 3, and Turbo App together, providing better CPU performance, efficient power saving, precise digital power control, whole system cooling and even tailor your own app usages.
Gamer's Guardian:
– ESD Guards on LAN, Audio, KBMS and USB3.0/2.0 ports
– DRAM Overcurrent Protection
– 10K Black Metallic Capacitors
– Stainless Steel Back I/O
ASUS Wi-Fi GO!
– Wi-Fi GO! Function: Cloud GO!, Remote Desktop, Remote Keyboard & Mouse, File Transfer
– Wi-Fi GO! & NFC Remote app for portable smartphone/tablet, supporting iOS 7 & Android 4.0 systems
ASUS Exclusive Features :
– MemOK!
– AI Suite 3
– Ai Charger+
– USB Charger+
– USB 3.0 Boost
– Disk Unlocker
ASUS EZ DIY :
– ASUS O.C. Profile
– ASUS CrashFree BIOS 3
– ASUS EZ Flash 2
– ASUS USB BIOS Flashback
– Push Notice
ASUS Q-Design :
– ASUS Q-Shield
– ASUS Q-Code
– ASUS Q-LED (CPU, DRAM, VGA, Boot Device LED)
– ASUS Q-Slot
– ASUS Q-DIMM
– ASUS Q-Connector
Overclocking Protection :
– ASUS C.P.R.(CPU Parameter Recall)
Media Streamer
Novosti
Intel je najavio malo osobno računalo NUC 13 Pro kodnog naziva "Arena Canyon". Dimenzija je 4 x 4 inča i može se koristiti u većini scenarija. Pritom se također reklamira kao nadogradivo i jednostavno za održavanje. Pojedini modeli opremlje... Pročitaj više
Zoom uvodi OpenAI značajke produktivnosti, najavljujući lansiranje AI asistenta Zoom IQ za oslobađanje radnog potencijala uključujući sažimanje sadržaja razgovora, organiziranje ideja, pisanje poruka, e-pošte i sadržaja ploče itd. Što se ti... Pročitaj više
Svi znamo da će do studenog/prosinca ove godine Qualcomm održati svoj Snapdragon Summit kako bi otkrio Snapdragon 8 Gen 3. Prve glasine o čipsetu već se pojavljuju među kojima su da i dalje koristiti TSMC-ov 4nm node i ne bi trebao donijeti... Pročitaj više
Nakon što je najavio svog pomoćnika Copilot pokretanog umjetnom inteligencijom za Office aplikacije, Microsoft sada usmjerava pažnju na kibernetičku sigurnost. Lansirao je posebnu verziju chatbota pod nazivom Security Copilot s ciljem kako... Pročitaj više
U sklopu jedinstvene, trogodišnje kampanje čiji je naziv Let's care about each other, poznati gaming brand White Shark je održao tiskovnu konferenciju, te zajedno sa svojim ambasadorima najavio da će biti organizator i pokrovitelj niza akci... Pročitaj više
Sve novosti