ASUS ROG Rampage VI Apex recenzija
Datum objave 25.09.2017 - Krešimir Matanović
ROG Rampage VI Apex - prvi dio
Prev
:
Stranica 1 od 5
:
Next
Asus se svake godine trudi kupcima donijeti nešto novo i zanimljivo u svojoj ponudi matičnih ploča. Ove je godine jedno od ugodnijih iznenađenja ROG Rampage VI Apex matična ploča sa X299 čipsetom. Iz godine u godinu vidimo slične proizvode koji imaju podršku za nove procesore, novi čipset, pokoju RGB LED-icu više i to je to. Rampage VI Apex dolazi kako bi razbila monotoniju među proizvodima, a to čini s vrlo zanimljivim dizajnom PCB-a koji nije klasičan kvadrat, nego je rezan i s rubnim elementima postavljenim ukoso. Da ne bi sve ostalo na dizajnu, ovo je punokrvni pripadnik ROG proizvoda pa je i krcata s opremom te overclocking mogućnostima.
Kao i svaki ROG proizvod i ova ploča dolazi u prigodno dizajniranoj i masivnoj kutiji kako ne bi bilo zabune u koji segment tržišta pripada. Drugi trag o čemu je riječ će naravno otkriti cijena ispod nje na polici dućana. No, ROG proizvodi nisu nikada bili jeftini i to kupci dobro znaju. Cijena se očituje podjednako u kvaliteti, mogućnostima ili i dodatnoj opremi. Tako u bundleu ove ploče nalazimo bogatu kolekciju opreme:
User's manual
Accessory Guide
I/O Shield
4 x SATA 6Gb/s cables
4 x M.2 screws
1 x Supporting DVD
1 x ASUS 2T2R dual band Wi-Fi moving antennas (Wi-Fi 802.11a/b/g/n/ac compliant)
1 x R6A MOS Fan bracket pack
2 x ROG DIMM.2 Fan Stand Packs
1 x 3-Way SLI bridge
1 x 4-Way SLI bridge
1 x SLI HB BRIDGE (2-WAY-L)
1 x ROG big sticker
1 x Q-Connector
1 x 10 in 1 ROG Cable Label
1 x ROG coaster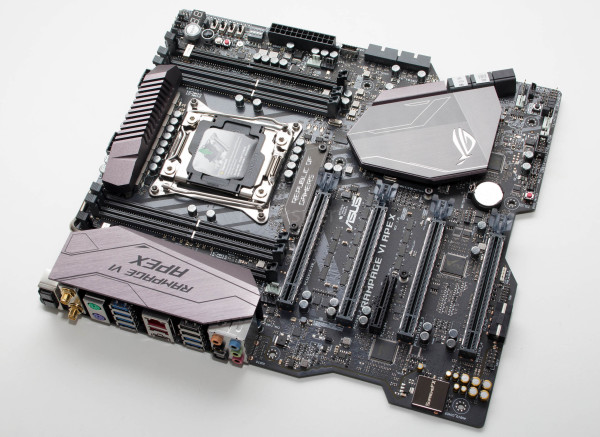 Bogata oprema uz ploču se nastavlja s bogatom opremom na ploči. Ova Apexica nastavlja tradiciju ROG dizajna i izbora boja kojeg smo vidjeli s nekim ranijim modelima. PCB je mat crni, s crnim i sivim plastičnim elementima na sebi, a tri su masivna aluminijska hladnjaka ljubičasti. I premda je riječ o velikoj ploči EATX formata, PCB je jednostavno nakrcan opremom i nema baš puno slobodnog prostora, čak nije bilo mjesta ni za osam DIMM utora. No, uz današnje velike module, više od četiri DIMM utora overclockerima ni ne treba, s tim da je i dalje naravno riječ o četverokanalnoj konfiguraciji.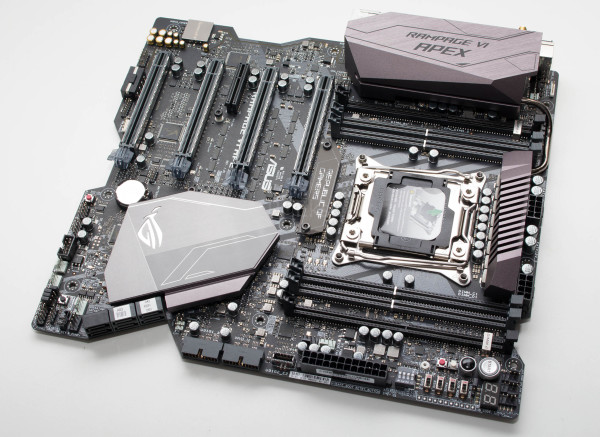 Posebnost dizajna ove ploče su rezovi na sva četiri ruba matične ploče koji joj daju zanimljiv i svježi izgled. Zanimljivo  je kako su SATA utori smješteni uz jednu od kosina, ili kako rez na desnoj strani prati osvjetljenje na dijelu gdje se odvaja PCB za audio jedinicu. Na vrhu je rez tik iznad desnih DIMM utora, a na dnu odjeljuje setove konektora. U sprezi s masivnim ljubičastim hladnjacima, ROG pločicom ispod socketa i ostalim elementima, ova ploča jednostavno izgleda odlično. Hladnjaci su masivni, što i moraju biti zbog povećanih zahtjeva za strujom Skylake-X procesora, a onaj na VRM jedinici se toplovodnom cijevi veže s još većim hladnjakom koji služi i kao pokrov stražnjih I/O portova. Na dnu, površinom velik a visinom nizak, PCH hladnjak također svoj posao odrađuje solidno, U normalnim se uvjetima svi hladnjaci ponešto zagriju, no prisilno im je hlađenje potrebno tek kada krenemo s istraživanjem krajnjih granica procesora.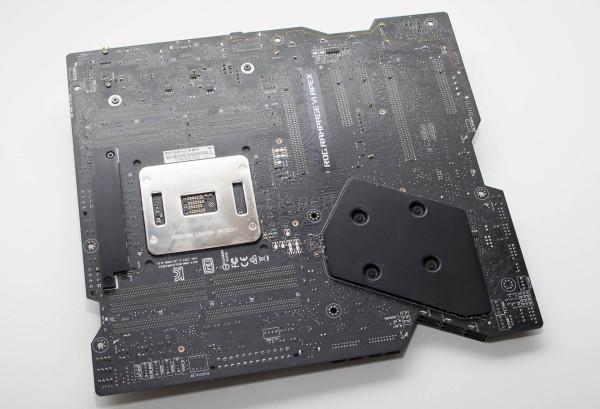 Zanimljiv oblik PCB-a se najbolje vidi s donje strane gdje nema puno elemenata koji odvraćaju pažnju s njega. Tu tek nalazimo tri masivna nosača – onaj za socket, te dva za hladnjake na VRM-u i PCH-u. Osim toga, Asus je (zanimljivo), odlučio poduplati neke nazive konektora s gornje strane, a tu se nalazi i mnoštvo RGB LED-ica za AURA osvjetljenje koje je na ovoj ploči iznimno bogato.
Specifikacije ASUS ROG RAMPAGE VI APEX

Podržani
procesori
Intel Socket 2066 Core X-Series Processors
Supports Intel Virtual RAID on CPU (VROC)
Čipset
Memorija
Intel Core X-series Processors (6-core above)
4 x DIMM, Max. 64GB, DDR4 4133(O.C.)/4000(O.C.)/3866(O.C.)/3800(O.C.)/3600(O.C.)/3333(O.C.)/3300(O.C.)/3200(O.C.)/3000(O.C.)/2800(O.C.)/2600(O.C.)/2400/2133 MHz Non-ECC, Un-buffered Memory
Intel Core X-series Processors (4-core)
2 x DIMM, Max. 32GB, DDR4 4500(O.C)/4266(O.C.)/4133(O.C.)/4000(O.C.)/3866(O.C.)/3600(O.C.)/3333(O.C.)/3300(O.C.)/3200(O.C.)/3000(O.C.)/2800(O.C.)/2666(O.C.)/2400(O.C.)/2133 MHz Non-ECC, Un-buffered Memory
Utori
za proširenja
Intel Core X-Series Processors Family
4 x PCIe 3.0 x16 (x16, x16/x16, x16/x8/x8, x16/x8/x8/x8 or x8/x8/x8/x8 mode with 40-LANE CPU; x16, x16/x8 or x8/x8/x8 mode with 28-LANE CPU)
Intel X299 Chipset
1 x PCIe 3.0 x4
Multi-VGA
podrška
Supports NVIDIA 2/3/4-Way SLI Technology
Supports AMD 2/3/4-Way CrossFireX Technology
LAN, WiFi & Bluetooth

Intel I219V
Anti-surge LANGuard
Dual interconnect between the integrated Media Access Controller (MAC) and physical layer (PHY)Wi-Fi 802.11 a/b/g/n/ac
Supports dual band frequency 2.4/5 GHz
Supports MU-MIMOBluetooth V4.2
Audio
ROG SupremeFX 8-Channel High Definition Audio CODEC S1220A
– Impedance sense for front and rear headphone outputs
– Supports : Jack-detection
– SupremeFX Shielding Technology
– Supports up to 32-Bit/192kHz playback
Storage
Intel Core X-Series Processors Family :
1 x ROG DIMM.2 Module support(CPU_DIMM.2),
2 x M.2 Socket 3, with M key, type 2242/2260/2280/22110 storage devices support (PCIE 3.0 x 4 mode)
Intel X299 Chipset :
1 x M.2 Socket 3, with M key, type 2242/2260/2280/22110 storage devices support (PCIE 3.0 x 4 mode)
1 x M.2 Socket 3, with M key, type 2242/2260/2280/22110 storage devices support (SATA & PCIE 3.0 x 4 mode)
1 x ROG DIMM.2 Module support(PCH_DIMM.2)
4 x SATA 6Gb/s port(s)
ASMedia ASM1061 controller :
2 x SATA 6Gb/s port(s),
Supports Intel Smart Response Technology
Intel Optane Memory Ready
USB
Intel X299 Chipset :
6 x USB 3.1 Gen 1 port(s) (4 at mid-board)
Intel X299 Chipset :
5 x USB 2.0 port(s) (3 at mid-board)
ASMedia USB 3.1 Gen 2 controller :
1 x USB 3.1 Gen 2 front panel connector port(s)
ASMedia USB 3.1 Gen 2 controller :
2 x USB 3.1 Gen 2 port(s)
ASMedia USB 3.1 Gen 1 controller :
4 x USB 3.1 Gen 1 port(s)
BIOS
2 x 128 Mb Flash ROM, UEFI AMI BIOS, PnP, WfM2.0, SM BIOS 3.0, ACPI 6.0, Multi-language BIOS,
ASUS EZ Flash 3, CrashFree BIOS 3, F11 EZ Tuning Wizard, F6 Qfan Control, F3 My Favorites, Last Modified log,
F12 PrintScreen, and ASUS DRAM SPD (Serial Presence Detect) memory information.
Format

Extended ATX Form Factor
12 inch x 10.7 inch ( 30.5 cm x 27.2 cm ) X-SHAPED PCB

Interni I/O portovi
1 x Q_Code
1 x AAFP connector
2 x Aura RGB Strip Headers
2 x USB 3.1 Gen 1 connector(s) support(s) additional 4 USB 3.1 Gen 1 port(s)
1 x USB 2.0 connector(s) support(s) additional 1 USB 2.0 port(s)
0 x TPM header
6 x SATA 6Gb/s connector(s)
1 x VROC_HW_Key
1 x CPU Fan connector(s)
1 x CPU OPT Fan connector(s)
1 x AIO_PUMP connector
1 x W_PUMP+ connector
2 x 8-pin EATX 12 V Power connector
1 x 24-pin EATX Power connector(s)
2 x 8-pin ATX 12V Power connector(s)
1 x MemOK! button(s)
1 x Slow Mode switch(es)
9 x ProbeIt Measurement Points
1 x EZ Plug connector(s) (4-pin Molex power connector)
1 x Power-on button(s)
1 x Reset button(s)
1 x BIOS Switch button(s)
1 x Clear CMOS button(s)
1 x USB BIOS Flashback button(s)
1 x LN2 Mode jumper(s)
1 x ROG extension (ROG_EXT) header(s)
1 x Safe Boot button
1 x ReTry button
2 x T_Sensor Connector
1 x 3D Mount screw port(s)
1 x W_IN header
1 x W_OUT header
1 x W_FLOW header
1 x USB 3.1 Gen 2 front panel connector
2 x DIMM.2 Slot supports 2 M.2 drives (2242-22110)
5 x 4-pin Full Speed Fan connectors
1 x PCIe x16 Lane Switch
2 x RSVD Switch
Jedinstvene i ROG značajke

OC Design – ASUS PRO Clock II Technology
5-Way Optimization by Dual Intelligent Processors 5
– Whole system optimization with a single click! 5-Way Optimization tuning key perfectly consolidates TPU, EPU, DIGI+ VRM, Fan Xpert 4, and Turbo App together, providing better CPU performance, efficient power saving, precise digital power control, whole system cooling and even tailor your own app usages.
ASUS 5X Protection III :
– ASUS SafeSlot Core: Fortified PCIe Slot prevents damage
– ASUS LANGuard: Protects against LAN surges, lightning strikes and static-electricity discharges!
– ASUS Overvoltage Protection: World-class circuit-protecting power design
– ASUS DIGI+ VRM: 8 Phase digital power design
Gamer's Guardian:
– DRAM Overcurrent Protection
– 10K Black Metallic Capacitors
– DIGI+ VRM
– SafeSlot
ASUS EPU :SafeDIMM slot
AURA :
– Aura Lighting Control
– Aura RGB Strip Headers
– Aura Lighting Effects Synchronization with compatible ASUS ROG devices
ASUS Exclusive Features :
– AI Suite 3
ASUS Quiet Thermal Solution :
– ASUS Fan Xpert 4
ASUS EZ DIY :
– ASUS MyLogo
ASUS Q-Design :
– ASUS Q-Shield
– ASUS Q-Code
– ASUS Q-LED (CPU, DRAM, VGA, Boot Device LED, HDD LED)
– ASUS Q-Connector
Gaming Aesthetics :
– 3D printing friendly
– AURA-RGB Lighting

ROG značajke

Clear CMOS button
ROG RAMCache II
ROG CPU-Z
ROG CloneDrive
MemOK! Button
Slow Mode
Overwolf
ReTry Button
Safe Boot Button
Start Button
Reset Button
LN2 Mode
ROG Aura
– Aura Lighting Control
– Aura RGB Strip Headers
Extreme Engine Digi+ :
– IR3555 PoweIRstage®
– MicroFine Alloy Chokes
– 10K Black Metallic Capacitors
Mem TweakIt
ROG Extreme OC kit :
– PCIe x16 Lane Switch
Double Power :
– Dual 8 -pin CPU
ProbeIt
UEFI BIOS features :
– O.C. Profile
– Tweakers' Paradise
– ROG SSD Secure Erase
Extreme Tweaker
USB BIOS Flashback
Novosti
Prije desetak smo dana proslavili vrlo važan praznik - Valentinovo. Uoči njega smo vas obavijestili o specijalnoj podudi koju je U2Key shop pripremio kako bi kupili softver po odličnim cijenama. No, tu se priča ne zaustavlja i U2Key nastavl... Pročitaj više
Poznato je - Realme GT, model pametnog telefona bit će lansiran 4. ožujka. Kako se bliži datum lansiranja, sve je više detalja otkriveno. Potpredsjednik Realme Grupe (Xu Qi Chase) pokazao je prve službene fotografije mobitela i spominjanje... Pročitaj više
Lenovo ThinkBook Pods Pro imaju poseban dizajn i neke korisne značajke koje obično nisu dostupne na Bluetooth slušalicama. Svaka Bluetooth slušalica ThinkBook Pods Pro za prijenosna računala može se osim putem Bluetootha spojiti na računalo... Pročitaj više
Microsoft je potvrdio da u kumulativnom ažuriranju u veljači 2021. (KB4601319) postoji programska pogreška koja može onesposobiti korisnikovu web kameru. Prema korisničkim izvješćima, čini se da Windows 10 KB4601319 sprječava Intel RealSens... Pročitaj više
Samsung je objavio da će njegovi mobilni uređaji i tableti Galaxy koji su se pojavili na tržištu 2019. i kasnije, primati ažuriranje najmanje četiri godine. Međutim, ova ažuriranja vezana su uz sigurnost. Ona može biti na mjesečnoj bazi ili... Pročitaj više
Sve novosti