ASUS TUF B450M-PLUS Gaming recenzija
Datum objave 01.08.2018 - Krešimir Matanović
TUF B450M-PLUS Gaming - prvi dio
Prev
:
Stranica 1 od 5
:
Next
TUF ili The Ultimate Force je poznata Asusova serija matičnih ploča koja je oduvijek bila sinonim za visoku kvalitetu i izdržljivost, komponente certificirane po vojnim standardima, dolazile su s pet godišnjom garancijom, a ploče su najčešće bile i oklopljene. U zadnje je vrijeme Asus malo popustio oko te filozofije pa lijepe TUF ime i na malo običnije proizvode. Jedna od takvih "običnijih" ploča je danas pred nama. B450M-PLUS Gaming je Micro ATX ploča namijenjena Ryzenima, podjednako prvoj i drugoj generaciji. Zbog nešto jednostavnije konstrukcije je idealna za procesore nižeg TDP-a, no ako zatreba "potjerat" će i one jače.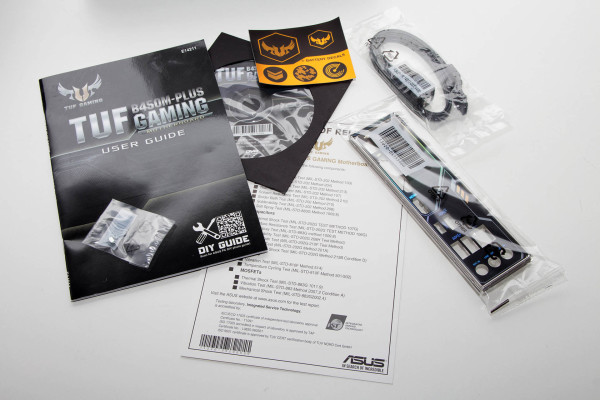 Ploča dolazi u malenoj kutiji, malo većoj od njenih Micro ATX dimenzija, a s njom u paketu dolazi i skroman bundle. On se sastoji od tankih uputa za instalaciju i korištenje, medija s upravljačkim programima i aplikacijama, vijaka za M.2 socket, dva SATA kabela, seta TUF naljepnica i certifikata koji jamči pouzdanost i podložnost vojnim standardima izdržljivosti za LANGuard, kondenzatore, prigušnice i MOSFET-e.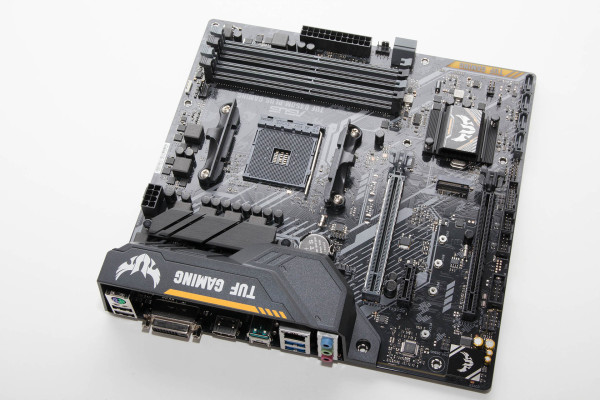 Ova je ploča u osnovi vrlo slična prošlogodišnjem B350-F Gaming modelu, s ponešto izmijenjenim dizajnom PCB-a (drugačije šare i dodana RGB LED rasvjeta), manjom plastikom na stražnjim I/O portovima, dodanim shieldom na audio kontroleru i horizontalnim SATA portovima grupiranim u jedan element. Dimenzije su ostale iste (24.4 x 24.4 cm), kao i onaj osnovni layout, tj. raspored komponenata po PCB-u.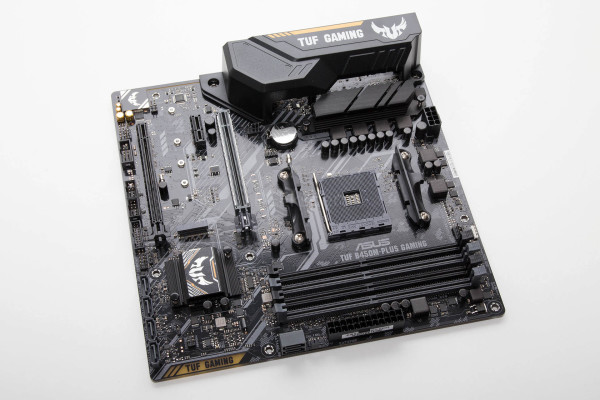 Odmah ćemo tako pokuditi vertikalne SATA portove koje be volimo zbog loše organizacije kabela i to je zapravo sve što joj ozbiljnije možemo zamjeriti u rasporedu. Ono što nam se također ne sviđa je maleni pasivni hladnjak na B450 čipu koji se izrazito zagrijava i tijekom normalnog rada. Hladnjak na MOSFET-ima VRM-a je također malen, no zadovoljavajuće hladi kada ima tok zračne struje na sebi kao što je imao s našeg Noctua D15 hladnjaka. Preporuka je uvijek osigurati nekakav protok zraka preko VRM-a, a pogotovo ako procesor hladimo vodenim hlađenjem.
Specifikacije ASUS TUF B450-PLUS Gaming

Podržani
procesori
AMD AM4 Socket AMD Ryzen™ 2nd Generation/Ryzen™ with Radeon™ Vega Graphics/Ryzen™ 1st Generation Processors
Supports CPU up to 8 cores
Čipset
AMD B450
Memorija
AMD Ryzen™ 2nd Generation/ Ryzen™ with Radeon™ Vega Graphics/ Ryzen™ 1st Generation Processors
4 x DIMM, Max. 64GB, DDR4 3200(O.C.)/3000(O.C.)/2800(O.C.)/2666/2400/2133 MHz Un-buffered Memory
Dual Channel Memory Architecture
ECC Memory (ECC mode) support varies by CPU.
Utori
za proširenja
AMD Ryzen™ 2nd Generation/ Ryzen™ 1st Generation Processors
1 x PCIe 3.0/2.0 x16 (x16 mode)
AMD Ryzen™ with Radeon™ Vega Graphics Processor
1 x PCIe 3.0/2.0 x16 (x8 mode)
AMD B450 chipset
1 x PCIe 2.0 x16 (max at x4 mode)
1 x PCIe 2.0 x1
Multi-VGA
podrška
Supports AMD 2-Way CrossFireX™ Technology
LAN

Realtek RTL8111H
TUF LANGuard
Audio
Realtek® ALC887-VD2 8-Channel High Definition Audio CODEC *2
Audio Feature :
– Exclusive DTS Custom for GAMING Headsets.
– Audio Shielding: Ensures precision analog/digital separation and greatly reduced multi-lateral interference
– Dedicated audio PCB layers: Separate layers for left and right channels to guard the quality of the sensitive audio signals
– Premium Japanese-made audio capacitors: Provide warm, natural and immersive sound with exceptional clarity and fidelity
– Audio Cover: Effective shielding preserves the integrity of audio signals to ensure best quality.
Storage

AMD Ryzen™ 2nd Generation/ Ryzen™ with Radeon™ Vega Graphics/ Ryzen™ 1st Generation Processors :
1 x M.2 Socket 3, with M key, type 2242/2260/2280/22110 storage devices support (SATA & PCIE 3.0 x 4 mode)*1
2 x SATA 6Gb/s port(s)
Support Raid 0, 1, 10
AMD B450 chipset :
4 x SATA 6Gb/s port(s)
Support Raid 0, 1, 10

USB

AMD Ryzen™ 2nd Generation/ Ryzen™ with Radeon™ Vega Graphics/ Ryzen™ 1st Generation :
2 x USB 3.1 Gen 1 port(s) (2 at back panel, , Type-A)
AMD Ryzen™ 2nd Generation/ Ryzen™ with Radeon™ Vega Graphics/ Ryzen™ 1st Generation :
1 x USB 3.1 Gen 1 port(s) (1 at back panel, , USB Type-CTM)
AMD B450 chipset :
1 x USB 3.1 Gen 2 port(s) (1 at back panel, )
AMD B450 chipset :
2 x USB 3.1 Gen 1 port(s) (2 at mid-board)
AMD B450 chipset :
6 x USB 2.0 port(s) (2 at back panel, , 4 at mid-board)

BIOS
128 Mb Flash ROM, UEFI AMI BIOS, PnP, SM BIOS 3.1, ACPI 6.1, Multi-language BIOS, ASUS EZ Flash 3, ASUS CrashFree BIOS 3, My Favorites, Last Modified log, F12 PrintScreen, ASUS User Profile,ASUS DRAM SPD (Serial Presence Detect) memory information, F6 Qfan Control,F4 AURA ON/OFF,F9 Search
Format
mATX Form Factor
24.4 cm x 24.4 cm
Interni I/O portovi
1 x Aura RGB Strip Header
1 x USB 3.1 Gen 1(up to 5Gbps) connector(s) support(s) additional 2 USB 3.1 Gen 1 port(s) (19-pin)
2 x USB 2.0 connector(s) support(s) additional 4 USB 2.0 port(s)
1 x M.2 Socket 3 with M key, type 2242/2260/2280/22110 storage devices support (SATA & PCIE 3.0 x 4 mode)
6 x SATA 6Gb/s connector(s)
1 x CPU Fan connector(s) (1 x 4 -pin)
2 x Chassis Fan connector(s) (2 x 4 -pin)
1 x S/PDIF out header(s)
1 x 24-pin EATX Power connector(s)
1 x 8-pin ATX 12V Power connector(s)
1 x Front panel audio connector(s) (AAFP)
1 x System panel(s)
1 x Clear CMOS jumper(s)
1 x COM port header
Jedinstvene značajke
ASUS TUF PROTECTION
– ASUS SafeSlot: Protect your graphics card Investment
– ASUS ESD Guard: Enhanced ESD protection
– ASUS Overvoltage Protection: World-class circuit-protecting power design
– ASUS Stainless-Steel Back I/O: 3X corrosion-resistance for greater durability!
– ASUS DIGI+ VRM: 6 Phase digital power design
AURA :
– Aura Lighting Control
– Aura RGB Strip Headers
ASUS Exclusive Features :
– AI Suite 3
– Ai Charger
– PC Cleaner
ASUS Quiet Thermal Solution :
– Stylish Fanless Design Heat-sink solution & MOS Heatsink
– ASUS Fan Xpert 2+
ASUS EZ DIY :
– ASUS CrashFree BIOS 3
– ASUS EZ Flash 3
– ASUS UEFI BIOS EZ Mode
ASUS Q-Design :
– ASUS Q-Slot
– ASUS Q-DIMM
Novosti
Implementirajući napredni 3D NAND flash, SSD-ovi XPG GAMMIX S11 Pro nude veće kapacitete pohrane u rasponu od 256 GB do 1 TB, a istovremeno i veću učinkovitost, robusnu pouzdanost i veliku TBW vrijednost (TBW = Total Bytes Written, ukupna k... Pročitaj više
Nova HP-ova serija računala ProBook 400 G6 dizajnirana su za suvremenog poslovnog korisnika. Profesionalcima omogućuju rad u uredu ili u pokretu te snagu i stil po pristupačnoj cijeni koji zadovoljavaju sve njihove poslovne potrebe. Nova li... Pročitaj više
Chieftec je lansirao dva nova proizvoda namijenjena gamerima koji vole blještavilo RGB LED-ica. Photon i Photon Gold su 650 i 750-wattna napajanja s ugrađenim RGB LED ventilatorima i podrškom za Asusov AuraSync, MSI-ev Mystic Light, ASRocko... Pročitaj više
ADATA Technology je predstavio svoje kartice XPG microSDXC UHS-I U3 razreda 10. Te kartice razreda aplikacijskih performansi 1 (A1) namijenjene su svima koji žive za igranje u pokretu te nude brzinu čitanja do 100 MB/s i pisanja do 85 MB/s,... Pročitaj više
U suradnji s portalom posao.hr donosimo aktualne vijesti s tržišta rada. U nastavku pogledajte tjedni pregled najboljih radnih mjesta u kategoriji 'Informatika i telekomunikacije' na koje se možete javiti putem brze prijave. Sretno! Baaer L... Pročitaj više
Sve novosti