ASRock 990FX Extreme6 & FX-9370 test
Datum objave 12.01.2015 - Krešimir Matanović
ASRock 990FX Extreme6 & FX-9370 - prvi dio
Prev
:
Stranica 1 od 6
:
Next
Prošle su se jeseni na tržištu pojavili novi, pomlađeni FX procesori, pa je to ponukalo i proizvođače matičnih ploča da malo osvježe svoju ponudu. U osnovi je naravno riječ i dalje o dobro poznatim 990FX modelima koje su odavno na tržištu, no sada su neke od njih dobile dodatke u obliku M.2 Gen2 utora, te još nekih sitnica kako bi koliko toliko održale korak s vremenom i sa sve modernijom konkurencijom. Prošli smo mjesec uz FXe procesore, testirali i ploču koja nosi naziv i brand gamera Fatal1ty-a, a ovaj mjesec se bavimo Extreme6 verzijom koja je zapravo vrlo slična, no uz dodatak podrške za 220W procesore i manjak Killer mrežne kartice. Ova podrška za 220W TDP modele je značila i kako ćemo konačno isprobati sada već davno predstavljeni FX-9370 procesor kojeg nismo imali prilike testirati. Nismo zapravo nikada ni testirali nekog od 220W TDP modela, pa će biti zanimljivo vidjeti što oni mogu pružiti u odnosu na FX-8xxx seriju.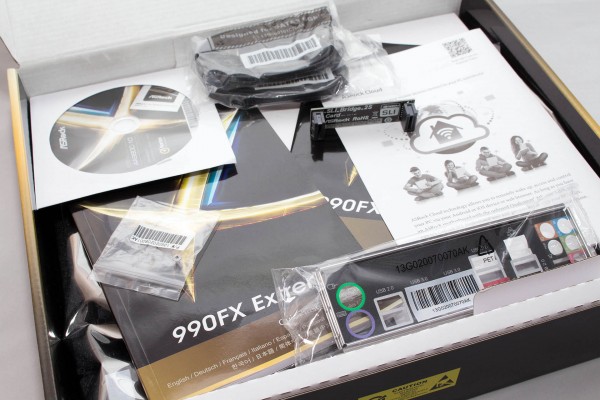 Uz ploču dolazi i adekvatan bundle koji se sastoji o jedne ASRock SLI_Bridge_2S kartice, Quick Installation Guide-a, CD-a s aplikacijama i driverima (Drivers, Utilities, AntiVirus Software (Trial Version), Google Chrome Browser and Toolbar, Start8 (30 days trial), Orbweb.ME Professional (Win 8.1 / 7)), I/O zaštita, četiri SATA Data kabela i jedan M.2_SSD (NGFF) Socket 3 vijak. Nije bogato kao što su nas to Asus i Gigabyte naučili no u ovom cjenovnom rangu sasvim prihvatljivo.
Ploča je dizajnom i layoutom vrlo slična ranije testiranom Fatal1ty 990FX Killer modelu, s kojim dijeli sve ključne elemente i isti onaj sjajno crni PCB. Naravno, za ovu su priliku utori i hladnjaci promijenili boje, no ploča i dalje izgleda dovoljno atraktivno. Kao i kod Killer modela, i tu su prisutni neki zanimljivi detalji poput Hi-density napojnog konektora za procesor, 15 mikrona pozlatu na kontaktima za grafičke kartice i  dodatni SLI/CFX konektor za napajanje. Hladnjaci svaki za sebe (VRM, northbridge i southbridge), odrađuju vrlo dobar posao i prisilno je hlađenje potrebno tek prilikom overclockinga.
Specifikacije
ASRock 990FX Extreme6

Podržani
procesori
– Supports Socket AM3+ processors
– Supports Socket AM3 processors: AMD Phenom™ II X6 / X4 / X3 / X2 (except 920 / 940) / Athlon II X4 / X3 / X2 / Sempron processors
– Supports 8-Core CPU
– Supports UCC feature (Unlock CPU Core)
– Digi Power design
– 8 + 2 Power Phase design
– Supports CPU up to 220W
– Supports AMD's Cool 'n' Quiet Technology
– FSB 2600 MHz (5.2 GT/s)
– Supports Untied Overclocking Technology
– Supports Hyper-Transport 3.0 (HT 3.0) Technology
Čipset
– Northbridge: AMD 990FX
– Southbridge: AMD SB950
Memorija
– Dual Channel DDR3 Memory Technology
– 4 x DDR3 DIMM Slots
– Supports DDR3 2450(OC)/2100(OC)/1600/1333/1066 non-ECC, un-buffered memory
– Max. capacity of system memory: 64GB

*


– Supports Intel Extreme Memory Profile (XMP) 1.3 / 1.2
– Supports AMD Memory Profile Technology (AMP) up to AMP 2400
Utori
za proširenja
– 3 x PCI Express 2.0 x16 Slots (PCIE2/PCIE3 @ x16 mode; PCIE5 @ x4 mode)
– 2 x PCI Express 2.0 x1 Slots
– Supports AMD Quad CrossFireX, 3-Way CrossFireX™ and CrossFireX
– Supports NVIDIA Quad SLI and SLI
– 15μ Gold Contact in VGA PCIe Slots (PCIE2/PCIE3)
Multi-VGA
podrška
Supports NVIDIA Quad-GPU SLI Technology
Supports AMD Quad-GPU GPU CrossFireX Technology
LAN
– PCIE x1 Gigabit LAN 10/100/1000 Mb/s
– Qualcomm Atheros AR8171
– Supports Qualcomm Atheros Security Wake On Internet Technology
– Supports Wake-On-LAN
– Supports Lightning/ESD Protection (ASRock Full Spike Protection)
– Supports Energy Efficient Ethernet 802.3az
– Supports PXE
Audio
– 7.1 CH HD Audio with Content Protection (Realtek ALC1150 Audio Codec)
– Premium Blu-ray Audio support
– Supports Purity Sound 2


– Nichicon Fine Gold Series Audio Caps




– 115dB SNR DAC with differential amplifier




– TI NE5532 Premium Headset Amplifier (Supports up to 600 ohm headsets)




– Direct Drive Technology




– EMI shielding cover




– PCB isolate shielding


– Supports DTS Connect
Storage
– 5 x SATA3 6.0 Gb/s Connectors, support RAID (RAID 0, RAID 1, RAID 0+1, JBOD and RAID 5), NCQ, AHCI and Hot Plug
– 1 x M.2_SSD (NGFF) Socket 3, supports M.2 SATA3 6.0 Gb/s module and M.2 PCI Express module up to Gen2 x2 (10 Gb/s) (M.2_SSD (NGFF) Socket 3 is shared with the eSATA3 connector)
USB
– 2 x USB 2.0 Headers (Support 4 USB 2.0 ports) (Supports ESD Protection (ASRock Full Spike Protection))
– 1 x Vertical Type A USB 3.0 (Supports ESD Protection (ASRock Full Spike Protection))

– 6 x USB 2.0 Ports (Supports ESD Protection (ASRock Full Spike Protection))
– 4 x USB 3.0 Ports (ASMedia Hub) (Supports ESD Protection (ASRock Full Spike Protection))

BIOS
– 32Mb AMI UEFI Legal BIOS with GUI support
– Supports "Plug and Play"
– ACPI 1.1 Compliant wake up events
– Supports jumperfree
– SMBIOS 2.3.1 support
– CPU, DRAM, NB, HT, CPU VDDA, PCIE VDDA, CPU NB Voltage multi-adjustment
Format
– ATX Form Factor
– Nichicon 12K Platinum Caps (100% Japan made high quality conductive polymer capacitors)
– High Density Glass Fabric PCB
Interni I/O portovi
– 1 x IR Header
– 1 x COM Port Header
– 1 x TPM Header
– 1 x Power LED Header
– 2 x CPU Fan Connectors (1 x 4-pin, 1 x 3-pin)
– 3 x Chassis Fan Connectors (1 x 4-pin, 2 x 3-pin)
– 1 x Power Fan Connector (3-pin)
– 1 x 24 pin ATX Power Connector
– 1 x 8 pin 12V Power Connector (Hi-Density Power Connector)
– 1 x PCIe Power Connector
– 1 x Front Panel Audio Connector
– 1 x SPDIF Out Connector
– 2 x USB 2.0 Headers (Support 4 USB 2.0 ports) (Supports ESD Protection (ASRock Full Spike Protection))
– 1 x Vertical Type A USB 3.0 (Supports ESD Protection (ASRock Full Spike Protection))
– 1 x USB 3.0 Header by Etron EJ188 (Supports 2 USB 3.0 ports) (Supports ESD Protection (ASRock Full Spike Protection))
Specijalne značajke
Software
– ASRock Extreme Tuning Utility (AXTU)
– ASRock APP Charger
– ASRock XFast LAN
– ASRock XFast RAM
– ASRock Restart to UEFI
– ASRock X-Boost
UEFI
– ASRock Instant Boot
– ASRock Instant Flash
– ASRock Internet Flash
– ASRock Crashless BIOS
– ASRock OMG (Online Management Guard)
– ASRock UEFI System Browser
– ASRock UEFI Tech Service
– ASRock Dehumidifier Function
– ASRock Easy RAID Installer
– ASRock Easy Driver Installer
– Turbo 50 / Turbo 60 Overclocking
Novosti
AMD je na današnjem eventu predstavio tri nove grafičke kartice bazirane na RDNA 2 grafičkoj arhitekturi. Nova arhitektura donosi dvostruko povećanje u performansama u odnosu na RX 5700 XT i prethodnu arhitekturu, te 50% povećanja performan... Pročitaj više
AMD je odlučio kupiti 74 % Xilinxa po cijeni od 35 milijardi američkih dolara. To je nakon transakcije ATI-ja iz 2006. godine, kada je AMD iskeširao 5,4 milijarde američkih dolara, doista "nebeska" cijena. Iako je ova akvizicija Xilinxa izn... Pročitaj više
Danas započinje novo poglavlje za AMD Radeon grafičke kartice. Kao što ste možda načuli, bit će predstavljena Radeon RX 6000 - najsnažnija serija AMD grafičkih kartica ikad. AMD je prije dvije i pol godine rekao da će lansirati vrhunsku gra... Pročitaj više
Početak prodaje NVIDIA GeForce RTX 3070 je pred vratima, ali već je potvrđeno postojanje još jednog modela - GeForce RTX 3060 Ti u GPU-Z-ovim podacima. Nvidia GeForce RTX 3060 Ti grafička kartica ulazi u srednji/high-end segment. Koristi či... Pročitaj više
FinalWire je objavio dostupnost nove verzije svog AIDA64 softvera u sve četiri dostupne verzije, sa Extreme i Business edicijama. Novosti uključuju: AVX-512 accelerated benchmarks for Intel Tiger Lake and Rocket Lake processors AVX accelera... Pročitaj više
Sve novosti