ASUS P8Z77-V vs. Gigabyte Z77X-UD3H – bitka za mainstream
Datum objave 06.05.2012 - Krešimir Matanović
ASUS P8Z77-V WiFi - prvi dio
Prev
:
Stranica 1 od 7
:
Next
Asus trenutno proizvodi čak 12 različitih modela matičnih ploča baziranih na Z77 čipsetu. Od toga čak njih šest nosi oznaku P8Z77-V. Tako uz danas testirani model postoje još i Deluxe, LE, LK, LX te PRO verzije. Ovo je bitno za znati jer su razlike u cijeni i opremljenosti dosta velike, pri čemu je DELUXE model u vrhu ponude s cijenom od oko 210 € (u Njemačkoj), a LX na dnu s cijenom od oko 110 €. Naš model koji nema nikakav sufiks u imenu, se sa cijenom od oko 150 – 160 € smješta u približnu sredinu ponude. Asus nije znatnije mijenjao dizajn svojih kutija, pa tako na prednjoj stranici imamo popis svih bitnijih tehnologija koje ploča podržava, uz malo detaljnija objašnjenja na stražnjoj strani.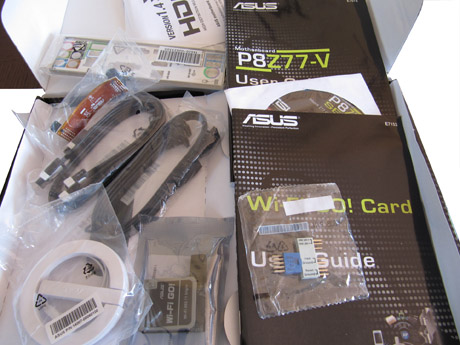 Ploča je vrlo dobro opremljena i uz nju će te dobiti i korisničke upute za instalaciju i rad, zatim standardni
ASUS Q-Shield (zaštita stražnjeg I/O panela), zatim dva SATA 3Gb/s kabela, dva SATA 6Gb/s kabela, jedan SLI mostić, jedan Q-konektor (2 in 1), jednu ASUS Wi-Fi GO! karticu i jedna Wi-Fi Ring Moving antena. Na priloženom se DVD-u nalaze upravljački programi, Asus alati te antivirusni program (OEM).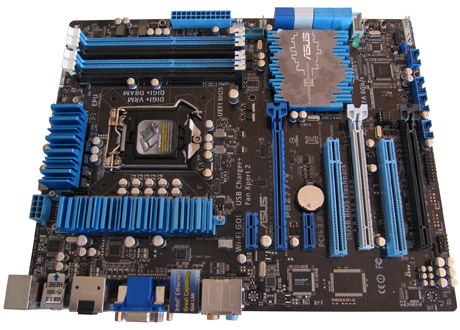 Ploča dolazi u standardnom ATX formatu (30.5 cm x 24.4 cm) i ne djeluje pretrpano. Dizajn je poznati Asusov sa kombinacijom plavo crnih utora i plavih aluminijskih hladnjaka na sjajnom crnom PCB-u. Hladnjaci su jednostavne konstrukcije, nalaze se na VRM dijelu te na Z77 PCH-u. Svoj posao u normalnom režimu rada odrađuju vrlo dobro i pregrijavanja nema. Ploča je kao što vidimo vrlo prostrana i na njoj ima dovoljno mjesta za veliki CPU hladnjak te čak tri dual-slot kartice, uz što ostaje mogućnost korištenja još jednog PCIe x1 utora. Ovaj dizajn u potpunosti prati prošlogodišnji kao što možemo vidjeti iz testa P8Z68-V PRO ploče. Novi je kao što vidimo jedino dizajn hladnjaka, uz tek poneki prerazmješteni prekidač, te uklanjanje Power On i Reset tipki. Asus ih je ove godine zadržao tek na DELUXE modelu.
style='mso-fareast-font-family:"Times New Roman"'>Specifikacije ASUS P8Z77-V

Podržani
procesori

Intel Socket 1155 for 3rd/2nd Generation Processors
Supports Intel Turbo Boost Technology 2.0

Čipset

Intel Z77

Memorija

4 x DIMM, Max. 32GB, DDR3 1866-2800(O.C.)
/1600/1333 MHz Non-ECC, Un-buffered Memory
Dual Channel Memory Architecture
Supports Intel Extreme Memory Profile (XMP)

Utori
za proširenja

2 x PCIe 3.0/2.0 x16 (x16 or dual x8)
1 x PCIe 2.0 x16 (x4 mode, black)
2 x PCIe 2.0 x1
2 x PCI

Multi-GPU
podrška
Supports NVIDIA Quad-GPU SLI
Supports AMD Quad-GPU CrossFireX
Supports AMD 3-Way CrossFireX
Supports LucidLogix Virtu MVP
LAN, WLAN

Intel 82579V, 1 x Gigabit LAN Controller
Intel LAN- Dual interconnect between the Integrated LAN controller and Physical Layer (PHY)

Wi-Fi 802.11 b/g/n
Supports single band frequency 2.4GHz

Audio
Realtek ALC892 8-Channel High Definition Audio CODEC
– Supports : Jack-detection, Multi-streaming, Front Panel Jack-retasking
Audio Feature :
– Absolute Pitch 192kHz/ 24-bit True BD Lossless Sound
– DTS Ultra PC II
– DTS Connect
– Optical S/PDIF out port(s) at back panel
Storage
Intel Z77 chipset :
2 x SATA 6Gb/s port(s), gray
4 x SATA 3Gb/s port(s), blue
Support Raid 0, 1, 5, 10
Supports Intel Smart Response Technology, Intel Rapid Start Technology, Inte Smart Connect Technology
ASMedia PCIe SATA controller :
2 x SATA 6Gb/s port(s), navy blue
USB

ASMedia USB 3.0 controller :
2 x USB 3.0 port(s) (2 at back panel, blue)
Intel Z77 chipset :
4 x USB 3.0 port(s) (2 at back panel, blue, 2 at mid-board)
Intel Z77 chipset :
10 x USB 2.0 port(s) (2 at back panel, black, 8 at mid-board)

BIOS i Format

64 Mb Flash ROM, UEFI AMI BIOS, PnP, DMI2.0, WfM2.0, SM BIOS 2.5, ACPI 2.0a, Multi-language BIOS,
ASUS EZ Flash 2, ASUS CrashFree BIOS 3, F12 PrintScreen, F3 Shortcut Function and ASUS DRAM SPD (Serial Presence Detect) memory information

ATX Form Factor
(30.5 cm x 24.4 cm)

Interni konektori
1 x USB 3.0 connector support additional 2 USB 3.0 ports (19-pin)
4 x USB 2.0 connectors supports additional 8 USB 2.0 ports
1 x TPM connector
1 x COM port connector
4 x SATA 6Gb/s connector(s)
4 x SATA 3Gb/s connector(s)
1 x CPU Fan connector(s)
3 x Chassis Fan connector(s)
1 x Optional Fan connector(s)
1 x S/PDIF out header(s)
1 x 24-pin EATX Power connector(s)
1 x 8-pin ATX 12V Power connector(s)
1 x Front panel audio connector(s) (AAFP)
1 x System panel(s)
1 x MemOK! button(s)
1 x TPU switch(es)
1 x EPU switch(es)
1 x Clear CMOS jumper(s)
1 x USB BIOS Flashback button(s)
Overclocking
Overclocking Protection :
– ASUS C.P.R.(CPU Parameter Recall)
ASUS značajke





ASUS Dual Intelligent Processors 3 – SMART DIGI+ Power Control :
SMART DIGI+ :
– Smart DIGI+ Key- quickly delivers higher VRM frequency, voltage and current for superior CPU/iGPU/DRAM overclocking performance with one switch.
– Smart CPU Power Level (Intel® VRD 12.5 Future Power Design)- provides the best digital power saving conditions.
ASUS TPU :
– Auto Tuning
– TurboV
– GPU Boost
– TPU switch
ASUS EPU :
– EPU
– EPU switch
ASUS Digital Power Design :
– Industry leading Digital 12 Phase Power Design
(8 -phase for CPU, 4 -phase for iGPU)
– Industry leading Digital 2 Phase DRAM Power Design
– CPU Power Utility
– DRAM Power Utility
ASUS Wi-Fi GO!
– Wi-Fi GO! Function: DLNA Media Hub, Smart Motion Control, Remote Desktop, Remote Keyboard & Mouse, File Transfer, Capture & Send *8
– Wi-Fi GO! Remote for portable Smartphone/Tablet, supporting iOS & Android systems
– Wi-Fi Engine for network sharing and connection: Client Mode, AP Mode
ASUS Exclusive Features :
– USB BIOS Flashback
– MemOK!
– AI Suite II
– Ai Charger+
– USB Charger+
– Anti-Surge
– ASUS UEFI BIOS EZ Mode featuring friendly graphics user interface
– Network iControl
– USB 3.0 Boost
– Disk Unlocker
ASUS Quiet Thermal Solution :
– Stylish Fanless Design Heat-sink solution
– ASUS Fan Xpert 2
ASUS EZ DIY :
– ASUS O.C. Tuner
– ASUS CrashFree BIOS 3
– ASUS EZ Flash 2
ASUS Q-Design :
– ASUS Q-LED (CPU, DRAM, VGA, Boot Device LED)
– ASUS Q-Slot
– ASUS Q-DIMM
– ASUS Q-Connector
Asus je za ovogodišnji model unaprijedio napojnu jedinicu iz druge u treću generaciju Dual Intelligent procesora i DIGI+ kontrole (VRD 12.5). Napojna je jedinica ostala ista 8 fazna za CPU + 4 fazna za iGPU, uz još dvije faze za radnu memoriju. Sve se skupa nalazi ispod dvaju dovoljno učinkovitih aluminijskih hladnjaka koji su doživjeli lagani redizajn u odnosu na prošlogodišnji model. Prostora oko socketa ima dovoljno i za najveće hladnjake, a za overclocking je poželjno imati hladnjak kojem se ventilator može spustiti ispod tijela kako bi hladio i VRM hladnjake (Noctuin D14 npr). I ova je ploča doživjela određene promjene u rasporedu stražnjeg I/O panela, pa je sada između PS/2/USB portova postavljen konektor za priloženi WiFi modul. Tik iza I/O panela nalaze se tri kontrolera – ASmedijini USB3.0 i TMDS level shift kontroleri za HDMI i DVI sučelja. Desno od socketa nalaze se kao i uvijek memorijski utori – na ploču je moguće staviti maksimalno 32GB radne memorije. Do DIMM utora nalazi se i zasebni Digi+ kontroler za napajanje memorije, čime se po Asusovim tvrdnjama, dobilo na boljim OC performansama. Ispod njega se nalazi standardna MemOK! tipka, 24 pinski ATX konektor, te interni USB3.0 konektor.
Novosti
Cooler Master je predstavio novi ambidekstralni igraći miš naziva CM310. Krasi ga RGB LED osvjetljenje, ima optički senzor rezolucije 1000 DPI-a i masu od 100 grama. Pet je predpodešenih profila za RGB osvjetljenje, a i rezolucija senzora s... Pročitaj više
Dell je predstavio najmoćniji do sad 1U server uz još nekoliko noviteta iz segmenta radnih stanica dizajniranih tako da pruže tvrtkama svih veličina i budgeta snažne, cjenovno prihvatljive, kompaktne radne stanice koje predvode u industriji... Pročitaj više
Hrvatski Telekom je danas u Puli obilježio završetak modernizacije radijske pristupne mreže na području Istre čime su se stvorili preduvjeti za implementaciju 5G mreže na tom području. Istra je tako postala prva regija u zemlji na čijem je... Pročitaj više
Kontekst i značenje uništavaju se autorskim pravima i zakonima o privatnosti koji su stvoreni za vrijeme koje je prošlo. Pridružite se Exodusu i ljudima koji će preuzeti kontrolu nad vrijednošću koja postoji u osobnom identitetu i podacima.... Pročitaj više
Tvrtka HP Inc. predstavila je novu liniju prijenosnih računala, stolnih računala i zaslona osmišljenih za sve poslovne i životne izazove. Najnoviji portfelj računala HP Elite 1000 i HP ENVY odlikuje se dizajnom, snažnim performansama i sves... Pročitaj više
Sve novosti