Gigabyte Z370 Aorus Gaming 7 recenzija
Datum objave 01.10.2017 - Krešimir Matanović
Z370 Aorus Gaming 7 - prvi dio
Prev
:
Stranica 1 od 5
:
Next
Kao što ste u najavnom unboxing videu mogli vidjeti, Gigabyte nam je na test poslao dvije svoje nove Z370 ploče, koje su namijenjene Intelovim Coffee Lake procesorima. U ovom članku donosimo test Z370 Aorus Gaming 7 ploče, a sljedeći tjedan donosimo detaljan test Core i7-8700K procesora, te Ultra Gaming ploče, uz naravno recenziju i Asusove Strix Z370-F. Gaming 7, ploča koju danas analiziramo, najjača je u aktualnoj ponudi, te donosi sve najnovije tehnologije koje je Gigabyte pripremio za ovu seriju ploča. Najviše se hvale s implementacijom Sabreovog poznatog ES9018 DAC-a u audio jedinicu, zatim s tri M.2 socketa, Killer E2500 LAN-om itd.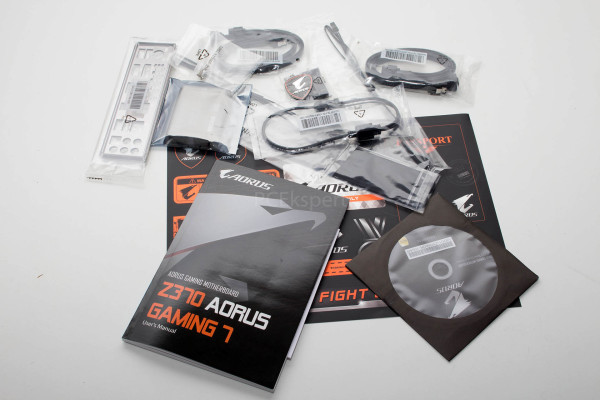 S obzirom na to kako je Gaming 7 trenutni top model, malo bogatiji bundle koji dolazi uz nju ne treba čuditi. Tako smo ispod dobro zaštićene matične ploče, u čvrstoj kutiji, našli četiri SATA kabela, SLI mostić, velcro vezice, produžni kabel za LED trake, Q konektor za prednji panel, Aorus naljepnicu, veliki set Aorus naljepnica, set vijaka i odstojnika za M.2, zaštitni lim za stražnji I/O panel, medij s aplikacijama i upravljačkim programima te debelu knjižicu s uputstvima.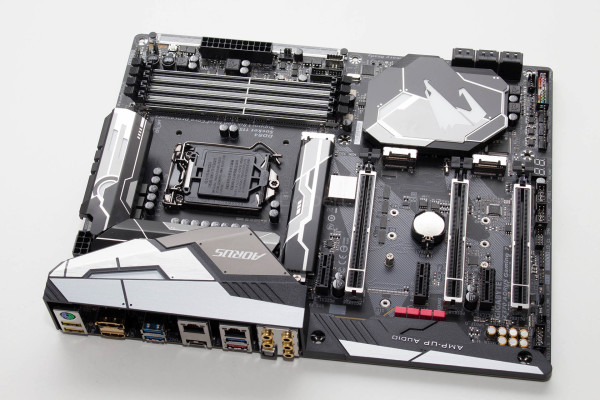 Ne tako davno, prije malo više od sedam mjeseci, testirali smo Z270X-Gaming 7 ploču koja je direktna prethodnica ove, i benchmark koji je trebalo nadmašiti. Kako ova recenzija bude odmicala, stvarno ćemo i vidjeti kako je Gigabyte donio više moderne tehnologije, odmaknuo se od nekih starijih trendova i okrenuo se novima. I dok je osnovni izgled i layout PCB-a ostao vrlo sličan, dizajn je elemenata na njemu drugačiji. Novi su hladnjaci na naponskoj jedinici procesora, novi je dizajn hladnjaka na čipsetu, a novi je i plastični pokrov stražnjeg I/O panela. Sada ploča djeluje malo robusnije, a tome doprinosi i pasivni aluminijski hladnjak najgornjeg M.2 socketa koji je smješten tik ispod CPU socketa.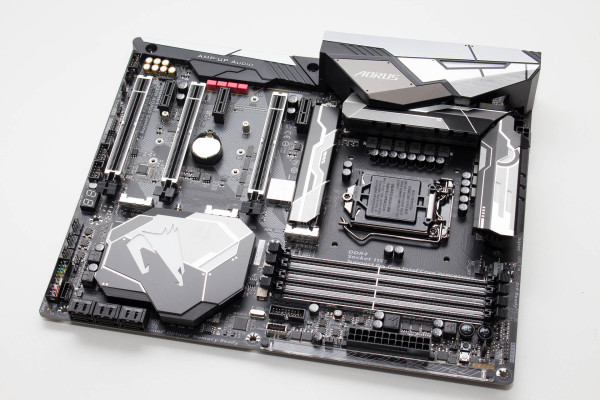 Svi su hladnjaci na ploči povećani, imaju više rashladne površine zbog većih zahtjeva za strujom 6-jezgrenih procesora, a dva na MOSFET-ima su kao i ranije povezani toplovodnom cijevi. Raspored osnovnih konektora i utora je ostao vrlo sličan, samo su sada iznad i malo iza svakog PCIe x16 utora dodani M.2 socketi, kojih je tri. Izbačeni su U.2 i SATA Express utori pored PCH hladnjaka, a ostavljeno je šest horizontalnih SATA utora. Layout je generalno vrlo dobar, sve je na svom mjestu i ništa ničemu neće smetati. Ne volimo vidjeti M.2 socket ispod prvog (najčešće korištenog), PCIe x16 utora, no drugačije ga nisu ni mogli smjestiti. Ipak, to i nije neka mana jer su druga dva M.2 socketa vrlo dobro smještena. Prostora oko socketa je dovoljno i za niže hladnjake, dok će se oni viši lako smjestiti iznad hladnjaka. Ipak, poklopac stražnjeg I/O-a je dosta visok i smetat će vanjskim ventilatorima kao npr. onome na Noctui D15.
Specifikacije Gigabyte Z370 Aorus Gaming 7

Podržani
procesori

Support for 8th Generation Intel Core i7 processors/Intel Core i5 processors/Intel Core i3 processors in the LGA1151 package
L3 cache varies with CPU

Čipset

Intel Z370 Express Chipset

Memorija

4 x DDR4 DIMM sockets supporting up to 64 GB of system memory
Dual channel memory architecture
Support for DDR4 4133(O.C.) / 4000(O.C.) / 3866(O.C.) / 3800(O.C.) / 3733(O.C.) / 3666(O.C.) / 3600(O.C.) / 3466(O.C.) / 3400(O.C.) / 3333(O.C.) / 3300(O.C.) / 3200(O.C.) / 3000(O.C.) / 2800(O.C.) / 2666 / 2400 / 2133 MHz memory modules
Support for ECC Un-buffered DIMM 1Rx8/2Rx8 memory modules (operate in non-ECC mode)
Support for non-ECC Un-buffered DIMM 1Rx8/2Rx8/1Rx16 memory modules
Support for Extreme Memory Profile (XMP) memory modules

Utori
za proširenja

1 x PCI Express x16 slot, running at x16 (PCIEX16)
* For optimum performance, if only one PCI Express graphics card is to be installed, be sure to install it in the PCIEX16 slot.
1 x PCI Express x16 slot, running at x8 (PCIEX8)
* The PCIEX8 slot shares bandwidth with the PCIEX16 slot. When the PCIEX8 slot is populated, the PCIEX16 slot operates at up to x8 mode.
1 x PCI Express x16 slot, running at x4 (PCIEX4)
* The PCIEX4 slot shares bandwidth with the M2P_32G connector. The PCIEX4 slot operates at up to x2 mode when a PCIe SSD is installed in the M2P_32G connector.
3 x PCI Express x1 slots
* The PCIEX1_3 slot shares bandwidth with the SATA3 1 connector. The SATA3 1 connector becomes unavailable when the PCIEX1_3 is populated.

Multi-VGA
podrška

Support for NVIDIA Quad-GPU SLI and 2-Way NVIDIA SLI technologies
Support for AMD Quad-GPU CrossFire and 3-Way/2-Way AMD CrossFire technologies

LAN


 1 x Intel GbE LAN chip (10/100/1000 Mbit) (LAN1)

1 x Rivet Networks Killer™ E2500 LAN chip (10/100/1000 Mbit) (LAN2)

Audio

Realtek ALC1220 codec
ESS9018Q2C chip
Support for Sound BlasterX 720°
High Definition Audio
2/4/5.1/7.1-channel
Support for S/PDIF Out

Storage
Chipset:

2 x M.2 connectors (Socket 3, M key, type 2242/2260/2280/22110 SATA and PCIe x4/x2 SSD support) (M2M_32G) (M2A_32G)
1 x M.2 connector (Socket 3, M key, type 2242/2260/2280 PCIe x4/x2 SSD support) (M2P_32G)
6 x SATA 6Gb/s connectors
Support for RAID 0, RAID 1, RAID 5, and RAID 10

Intel Optane™ Memory Ready

USB
Chipset+2 ASMedia USB 3.1 Gen 2 Controllers:

1 x USB Type-C port with USB 3.1 Gen 2 support, available through the internal USB header
1 x USB Type-C port on the back panel, with USB 3.1 Gen 2 support
1 x USB 3.1 Gen 2 Type-A port (red) on the back panel

Chipset+Realtek USB 3.1 Gen 1 Hub:

2 x USB 3.1 Gen 1 ports available through the internal USB header

Chipset:

5 x USB 3.1 Gen 1 ports on the back panel
4 x USB 2.0/1.1 ports available through the internal USB headers

BIOS

2 x 128 Mbit flash
Use of licensed AMI UEFI BIOS
Support for DualBIOS™
PnP 1.0a, DMI 2.7, WfM 2.0, SM BIOS 2.7, ACPI 5.0

Format

ATX Form Factor; 30.5cm x 24.4cm

Interni I/O portovi

1 x 24-pin ATX main power connector
1 x 8-pin ATX 12V power connector
1 x CPU fan header
1 x water cooling CPU fan header
4 x system fan headers
1 x 3 Amp fan/water cooling pump header
1 x system fan/water cooling pump header
2 x digital LED strip headers
2 x digital LED strip power select jumpers
2 x RGB (RGBW) LED strip headers
3 x M.2 Socket 3 connectors
6 x SATA 6Gb/s connectors
1 x front panel header
1 x front panel audio header
1 x S/PDIF Out header
1 x USB Type-C™ header, with USB 3.1 Gen 2 support
1 x USB 3.1 Gen 1 header
2 x USB 2.0/1.1 headers
1 x Thunderbolt™ add-in card connector
1 x Trusted Platform Module (TPM) header (2×6 pin, for the GC-TPM2.0_S module only)
1 x power button
1 x reset button
1 x Clear CMOS button
1 x OC button
2 x temperature sensor headers

Jedinstvene značajke

– Support for APP Center

– 3D OSD, @BIOS, AutoGreen, BIOS Setup, Color Temperature, Cloud Station, EasyTune, Easy RAID, Fast Boot, Game Boost, ON/OFF Charge, Platform Power Management, RGB Fusion, Smart Backup, Smart Keyboard, Smart TimeLock, Smart HUD, System Information Viewer, USB Blocker, USB DAC-UP 2, V-Tuner, Support for Q-Flash, Support for Xpress Install
Novosti
Kingston  je objavio da je njegova IronKey D300 enkriptirana serija USB Flash Drive ostvarila NATO certifikaciju ograničene razine. To ukazuje da su nakon detaljnog postupka provjere, Kingston IronKey D300, IronKey D300S i IronKey D300SM uv... Pročitaj više
ADATA predstavlja SE760 prijenosmu memoriju, kompaktnog i optimiziranog dizajna za korištenje u pokretu. Njegova glatka vanjština s teksturiranom površinom od uglačanog metala izgleda dobro te je ugodna na dodir. SE760 nudi sve praktične pr... Pročitaj više
Nvidia je jučer najavila GeForce RTX 2080 Ti Cyberpunk 2077 Edition grafičku karticu koju izdaju u suradnji s CD Project RED-om, developerima Cyberpunk 2077 igre koja izlazi u travnju ove godine. Ova grafička kartica posebnog dizajna biti ć... Pročitaj više
Poljski SilentiumPC predstavlja tri nova Armis AR6 modela kućišta koji nasljeđuju AR5 kućišta, od kojih smo jedno imali prilike i testirati. Tri nova kućišta dijele isti unutarnji dizajn ali im se vanjština ponešto razlikuje kao i (A)RGB os... Pročitaj više
AMD je lansirao novi profesionalni grafički ubrzivač, baziran na najnovijoj RDNA grafičkoj arhitekturi. Radeon Pro W5500 pruža performanse i donosi napredne funkcije profesionalcima u CAD/CAM modeliranju, 3D animaciji i video produkciji. Ka... Pročitaj više
Sve novosti